Engineers tackle global food crisis with new fertilizer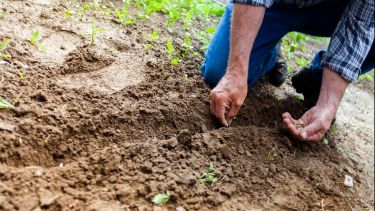 A new paper, Blue Urea: A fertiliser with reduced environmental impact co authored by Professor Peter Styring has been published in 'Frontiers in Energy Research'. This paper has discovered it is possible to reduce CO2 emissions in the production of fertilizer.
The world is fast approaching the limit of its ability to feed itself so maximising the efficiency of food production is imperative. As crops grow they use up nutrients from the earth and fertilizers are needed to replenish the soil to maintain agricultural productivity. This is why synthetic nitrogen fertilizers such as 'urea' are a necessity for food production and a vital component in achieving global food security.
The production process of urea accounts for more than 70% of worldwide fertilizer usage and emits huge amounts of CO2, which is a major contributor to climate change. Engineers from the department have found a way to produce urea that reduces CO2 emissions by up to 21%.
Urea is manufactured in plants at an enormous scale and then distributed ready for use; Professor Styring has discovered that it can be decentralised and scaled down so it can be produced at point of use. The traditional production method also requires high temperatures using fossil fuels, however the paper has found an alternative method of production that only requires ambient temperatures. This subsequently removes the need for fossil fuel combustion and its associated emissions.
The project was funded by Biotechnology and Biological Sciences Research Council (BBSRC) and Innovate UK and provided academics with legacy facilities at scale which they have been able to re-purpose in further projects.
This was a challenging piece of work due to the complexities of the design. However we got there eventually to produce a very effective fertiliser. There were many delays so we missed the growing season on the farm. Thankfully we were able to use the season long growing facilities in University of Sheffield's Institute for Sustainable Food which saved the day!

Professor Peter Styring 

Department of Chemical and Biological Engineering 
Whilst the paper shows that urea can be made in a way that has reduced environmental impact, new processes increase the costs of production. This is mainly due to losing the economies of scale achieved in mass production and the energy needed for the electrolysis in hydrogen production. Further research is needed to balance the commercial viability and environmental impact of fertilizers.
Flagship institutes
The University's four flagship institutes bring together our key strengths to tackle global issues, turning interdisciplinary and translational research into real-world solutions.