Our world-leading battery research
Battery Day is celebrated on 18 February and is a day to acknowledge the device that makes it possible for the smallest household items to the largest heavy-duty equipment to work smoothly. This incredibly energy source makes all of our lives a lot easier. Batteries are everywhere and can be found in everything from laptops, smoke detectors, mobile phones and even the national grid is propped up by batteries. Without the simple battery, where would we be?
History of The Battery
In 1800 Alessandro Volta discovered that when zinc and copper are placed into an acid or saline solution, that the zinc atoms break down and flow in a current and the copper atoms barely move. Which is how modern chemical batteries work. The zinc becomes a negative pole and the copper begins the positive pole.  A battery is a device that converts chemical energy to electrical energy. It is thought that the term battery to describe such a device was first used by Benjamin Franklin because the setting of the capacitator he saw reminded him of a battery of cannons.
To celebrate Battery Day, discover how Engineering at the University of Sheffield is revolutionizing research into batteries by watching our video. Without Batteries our lives would certainly be very different. Batteries have literally transformed the world and have changed our society into the wireless one it is today.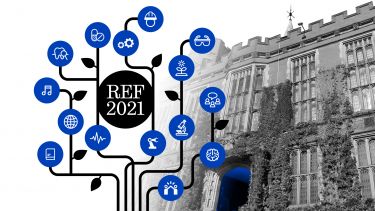 Research Excellence Framework 2021 results
The results demonstrate our research and impact excellence across a broad range of disciplines and confirm that our research is having a significant positive impact on lives across the globe.