Premier League Research: Football collides with Carbon Dioxide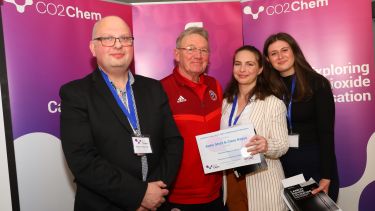 The CO2Chem Network brings together researchers, industrialists and policymakers from across disciplines to further the utilisation of carbon dioxide as a feedstock for the manufacture of chemicals, minerals and fuels.
The CO2Chem Winter School - Exploring Carbon Dioxide Utilisation delivered presentations from leading experts in carbon dioxide utilisation. Some of the topics covered included:
CO2 mitigation
Rise in global energy use
UK emissions reduction 
Replacing fossil fuels
Carbon based fuels
Why is hydrogen important to carbon dioxide utilisation 
The presentations were given by Director of the UK Centre for Carbon Dioxide Utilization Professor Peter Styring, Katy Armstrong and Stephen McCord from the Department of Chemical and Biological Engineering at the University of Sheffield and Professor Michael North from the University of York. Closing thoughts were from Peter Clark from the Knowledge Transfer Network.  
Arguably Sheffield United's greatest player 
Tony Currie
made a surprise appearance to award the CO2Chem Video Prize winners with a signed copy of Carbon Dioxide Utilisation: Closing the Carbon Cycle textbook.  All videos can be viewed on the CO2Chem
YouTube channel
. 
The winners of the Video Prize 2019 competition were Arnav Sharma from Orpington and Katie Stott and Clare Hayes from the University of York. A special commendation went to IASS-Potsdam & EBP Communications Team. 
Professor Styring said:

"We are very grateful to the UKRI for funding almost a decade of activities through the CO2Chem Network, one of the original Grand Challenges in the Physical Sciences. In that time the network has evolved and created impact in academia, industry and policy. However, even though the direct funding has ended we will carry on as CO2Chem under changing funding mechanisms. There is interim funding to the end of 2020 to create a transition to a more focused lobbying structure.

It is clear we need to act now to avert catastrophic climate effects. We do not need more consultations on CCUS, we need tangible technologies and policies to deliver it. We are "passed the point of procrastination".

We are now looking at various options to sustainably fund activities and we will report back to you once these plans are in place."