Dr Jon (Xiubo) Zhao
Department of Chemical and Biological Engineering
Senior Lecturer
Foundation Year Tutor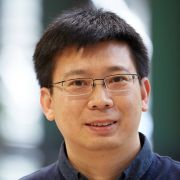 xiubo.zhao@sheffield.ac.uk
+44 114 222 8256
Kroto LG17, North Campus
Full contact details
Dr Jon (Xiubo) Zhao
Department of Chemical and Biological Engineering
Kroto LG17
North Campus
Broad Lane
Sheffield
S3 7HQ

Profile

I obtained a BEng in Biochemical Engineering from China in 2003 and a PhD from The University of Manchester in January 2007, working on biocompatible polymers for gene delivery.

Following my PhD I was a postdoctoral research fellow for 5 years at the University of Manchester working on peptide self-assembly, biointerfaces, and biosensors.

In 2012, I joined the Department of Chemical and Biological Engineering at the University of Sheffield as a Lecturer. I was the first year tutor from 2013-16 and took on the role of Engineering Foundation Year Admissions Tutor from September 2016.
Research interests

Nanomedicine: Using de novo designed self-assembling peptides as antimicrobial and anticancer agents and vectors for gene delivery; developing silk/magnetic nanoparticles for drug delivery.
Bioprinting: Reactive inkjet printing of biomaterials (e.g. silk) as tissue culture scaffolds and swimming devices and biosensors for biomedical applications.
Biointerfaces: Biomolecular assembly and interaction at interfaces for biosensor applications.

Our recent work of biocompatible silk micro-rockets has received media attentions:
Publications

Journal articles

Chapters

Conference proceedings papers

Other
Grants

EPSRC, PI, Fabrication of antibody functionalized silk fibroin micro-well arrays using reactive inkjet printing for circulating tumour cell capture (2016-19)
EPSRC, Co-I, Printable micro-rockets for rapid medical diagnosis and biomarker detection (2016-18)
EPSRC, Co-I, Engineering novel antimicrobial peptide surfaces (2016-17)
EPSRC, PI, Engineering smart 3D silk fibroin tissue culture scaffolds using reactive inkjet printing (2015-16)
Royal Society, PI, Novel anticancer peptides for targeted delivery of siRNA into cancer cells (2015-17)
Teaching activities

BIE201 - Advanced Bioengineering Topics
CPE1002 - Chemical Process Principles 1
CPE3003 - Advanced Chemical Engineering (Chemical Reaction Engineering)
CPE401 - MEng (Chemical Engineering) Research Projects
CPE6010/6011 - MSc Research Projects