Prize for student who presented work in Parliament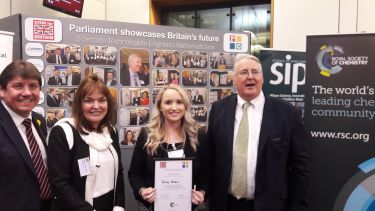 Felicity Noakes and Kirsty Smitten both produced posters for the event's chemistry session, and Felicity was awarded the Silver prize worth £1,250.
Both students graduated from our MChem Chemistry course before starting their PhDs with Professor Jim Thomas. At the STEM for Britain event, they met politicians including Paul Blomfield, MP for Sheffield Central.
Felicity, whose research focusses on a potential treatment for ovarian cancer, said: "It feels absolutely incredible to win. I was not expecting it at all.
---
I applied in order to get my research out there. It was really nice to meet my local MP – he took a real interest in my work. I think it's important to speak to MPs about my research because they are the ones that have a voice – they've got the power to make a difference.

Felicity Noakes

Department of Chemistry
---
Her award follows on from Kirsty winning the who won the Nova Prize for Chemistry last year. In her research, she has synthesised a novel set of antimicrobial complexes with higher activities than currently used antibiotics.
Both scientists were authors on a recently published study on a new compound that could be more effective in treating certain cancers than standard chemotherapy.
Stephen Metcalfe MP, Chair of the Parliamentary and Scientific Committee, who sponsored the chemistry award at STEM for Britain, said:
"This annual competition is an important date in the parliamentary calendar because it gives MPs an opportunity to speak to a wide range of the country's best young researchers."
"These early career engineers, mathematicians and scientists are the architects of our future and STEM for BRITAIN is politicians' best opportunity to meet them and understand their work."
The Royal Society of Chemistry's chief executive, Dr Robert Parker, said: "STEM research leads to the innovations that improve our lives and drive our economy. At the Royal Society of Chemistry, we're committed to maximising the impact of the chemical sciences, and that includes raising the profile of science with decision-makers.
"STEM for BRITAIN is a fantastic opportunity for politicians to hear first-hand from some of the UK's most talented young researchers about their work."
A world top-100 university
We're a world top-100 university renowned for the excellence, impact and distinctiveness of our research-led learning and teaching.