Q+A: Martha Borg, long-distance PhD student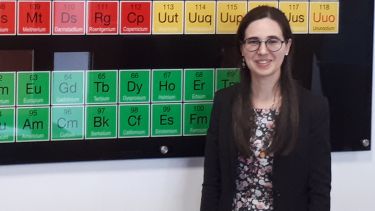 Could you give us a bit of background about yourself?
I was born and live in Malta, a small island in the middle of the Mediterranean Sea. I have always been intrigued by the applications of Mathematics in daily life and in its connection to various other realms of knowledge. I read for a Bachelor of Science (Honours) degree in Mathematics and Physics at the Univeristy of Malta, graduating in 2007. A year later I obtained my Post Graduate Certificate in Education followed by a Masters degree in Mathematics in 2010, also at the University of Malta.
I have just finished reading for my Doctorate in Theoretical Chemistry at the University of Sheffield in England. I am a full-time teacher/educator of Mathematics, having taught Mathematics and Physics for the past 11 years to students between 11 and 16 years of age. My interests include reading, especially about current affairs, and travelling to discover new cultures. Playing the piano is also a pastime I use to relax and express myself.
Why did you choose to do a PhD part-time and long-distance?
Resigning from my full-time job as a teacher to focus solely on research was not possible for me due to financial reasons, and therefore I opted for continuing my studies on a part-time basis. Whilst doing my Masters, my supervisor introduced me to the work of Professor Fowler at the University of Sheffield. Mathematics lends itself quite easily to Theoretical Chemistry, and this idea intrigued me. I felt that the University of Sheffield would be a good place where to start researching this area.
What have been the advantages and disadvantages of doing the PhD the way you did it for you? Any lessons that can be learned from that?
Study has always been a pleasure for me. So, although I had to juggle things round with my work and studies, I still feel that this was an enriching experience. Doing a PhD part-time allowed me  to continue with my other interests in life and work. I could plan and allocate time to work on my PhD, at different rates during the years.
A disadvantage is that at times it was stressful to meet deadlines related to my studies whilst also having other responsibilities at work. One other thing that I lacked was feeling part of the PhD community of students. My visits were always quite short and intense and so there was no time for me to socialise and mingle with other students. Having a student buddy system for distance learning students might be a great option to consider. 
A world top-100 university
We're a world top-100 university renowned for the excellence, impact and distinctiveness of our research-led learning and teaching.