Professor Simon Jones
Head of Department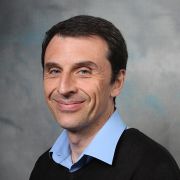 Profile

Prof. Jones obtained a BSc in Chemistry from the University of Southampton (1991). After obtaining his PhD from the University of Wales, Cardiff in 1995, he became a postdoctoral research associate at Arizona State University. Between 1996 and 1998 he was a postdoctoral research assistant in the Dyson Perrins Laboratory at the University of Oxford. In 1999 he was appointed to a lecturership at the University of Newcastle upon Tyne.

In 2003 he moved to the University of Sheffield, where he was promoted to Senior Lecturer in 2005 and Reader in 2013. He was promoted to Professor in 2017.

Awards

Senate Teaching Award 2008.
Qualifications
Research interests

Methods for Asymmetric Synthesis

A major theme of a majority of my research is the development of new ways to construct molecules in a controlled and selective fashion. We have established innovative methods based on chiral anthracene templates, organocatalysts and organo-boron and phosphorus species.

Construction of Molecular Probes of Biologically Active Molecules

A number of projects are underway that involve the synthesis of new, functional molecules that can be used to probe biochemical pathways. Current projects involve the development of new magnetic imaging contrast agents, fluorescent probes based upon fatty acids and bisphosphonates, and 13C labeled anti-cancer agents for use in dynamic nuclear polarisation studies.

Synthesis of Biologically Active Molecules

Several projects are underway involving the design, synthesis, and biological testing of molecules that could be used as potential novel anti-inflammatory agents and antibiotics. Another project is similarly looking at ways to develop a new herbicide.
Publications

Journal articles

Chapters

Conference proceedings papers
Teaching interests

Organic Chemistry
Teaching activities

Undergraduate and postgraduate taught modules

Organic Chemistry 1 (Level 1)
This lecture course introduces basic concepts for describing structure and reactivity in organic compounds.
Problem solving in organic chemistry (Level 3)
This course summarises Level 1 and 2 organic chemistry and practises using this knowledge with more integrated problems.

Support Teaching:

Tutorials: Level 2 Organic Chemistry.
Level 3 Literature Review

Laboratory Teaching:

Level 2 Organic Laboratories
Level 3 Organic Laboratories
Level 4 Research Project