Biophysical and Photophysical Chemistry
Our work develops new methods to characterise chemical and biological systems and their behaviour; explores the mechanisms of charge and energy transfer in molecules and material; and develops new analytical methodologies for the characterisation of molecular systems, biomolecules, and materials.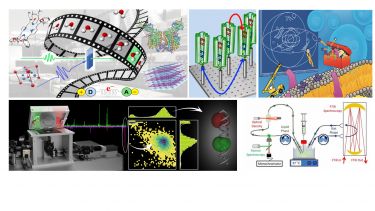 Off
Major Themes
We are a dynamic, interdisciplinary group of people sharing passion for light-driven phenomena and (supra)molecular interactions at the interface of chemistry, physics and biology - collaborators welcome.
Ultra-fast processes, light matter interactions: charge and energy transfer in molecular systems and biomolecules, artificial photosynthesis and light-harvesting, photocatalysis, photodynamic therapy
Biophysical chemistry: single-molecule spectroscopy and microscopy, energy transfer in molecular systems, repurposing of natural systems for synthetic biology applications, self-assembling proteins and biological membranes, plant signalling
Surfaces and materials: plasmonics, surface spectroscopy, bionanotechnology, photonics
Applied spectroscopy: development of new analytical spectroscopic techniques and its applications, to study the metabolism of bacteria, and sensing of nutrients in soils.
Methods
Ultrafast laser spectroscopy: transient absorption and time-resolved infrared, 2D-IR, time-correlated single-photon counting, fluorescence upconversion spectroscopy. 
Ultrasensitive techniques: single-molecule FRET, cavity ring-down spectroscopy, Raman spectroscopy, direct singlet oxygen detection.
Imaging techniques: Nanolithography, surface patterning, AFM, Molecular photonics breadboards, Optical Coherence Tomography (OCT), FLIM and phosphorescence lifetime imaging microscopy in cells and tissues.
Protein engineering: rational design of self-assembling proteins and immunofluorescence microscopy.
Key publications
Ambrose, B., Baxter, J.M., Cully, J. et al (2020). The smfBox is an open-source platform for single-molecule FRET. Nat Commun, 11, 5641. 
G.D. Metcalfe, S. Alahmari, T.W. Smith, and M. Hippler (2019). Cavity-Enhanced Raman and Helmholtz Resonator Photoacoustic Spectroscopy to Monitor the Mixed Sugar Metabolism of E. coli. Anal. Chem., 91 13096-13104. 
A. Lishchuk, G. Kodali, J. A. Mancini, M. Broadbent, B. Darroch,O. A. Mass, A. Nabok, P. L. Dutton, C. N. Hunter, P. Törmä and G. J. Leggett (2018). A Synthetic Biological Quantum Optical System. Nanoscale, 10, 13064 - 13073.
A. Graf, J. Finkel, A. Chauvet & S. Rtimi (2019). Deciphering the mechanisms of bacterial inactivation on HiPIMS sputtered CuxO-FeOx-PET surfaces: from light absorption to catalytic bacterial death. Appl. Mater. Interfaces, 11, 48, 45319–45329.
Booth A, Marklew CJ, Ciani B & Beales PA (2019). In Vitro Membrane Remodeling by ESCRT is Regulated by Negative Feedback from Membrane Tension. iScience, 15, 173-184.
Delor M, Scattergood PA, Sazanovich IV, Parker AW, Greetham GM, Meijer AJHM, Towrie M & Weinstein JA (2014). Toward control of electron transfer in donor-acceptor molecules by bond-specific infrared excitation. Science, 346(6216), 1492-1495.
Key Facilities
Single-molecule FRET and TCSPC
Collaborations within the University
We are part of many cross-faculty initiatives:
Grantham Center for Sustainable Futures, The Florey Institute, SinFoNia, Imagine: Imaging Life
People
For further information about Biophysical and Photophysical Chemistry at Sheffield please see the staff page of individual researchers below.
Members of other research clusters active in biophysical and photophysical chemistry:
A global reputation
Sheffield is a research university with a global reputation for excellence. We're a member of the Russell Group: one of the 24 leading UK universities for research and teaching.