Molecular Design and Catalysis
Members of the Molecular Design and Catalysis cluster have a common interest in the syntheses of new molecular architectures focusing on functional systems whose properties could be used in a wide range of applications.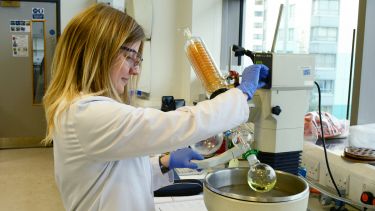 Between them they have expertise across organic and inorganic chemistry, from small molecules and supramolecular assemblies to metal organic frameworks and nanomaterials.
---
Major themes
Catalysis – the design, synthesis, and characterisation of organometallic- and organo-catalysts, and supramolecular catalysts, metal oxides and metal nanoparticles
Self-assembly – of functional molecular architectures, porous coordination frameworks, and graphene inspired nano-materials
Molecular recognition - recognising and sensing ions, molecules, and bio-molecules
Synthetic methods – finding new ways of making molecules and supramolecular assemblies, asymmetric synthesis, as well as understanding mechanisms, and identifying structure-property relationships
---
People
For further information about Molecular Design and Catalysis at Sheffield please see the staff page of individual researchers below:
Professor Nicholas H. Williams
Members of other research clusters active in molecular design and catalysis:
A world top-100 university
We're a world top-100 university renowned for the excellence, impact and distinctiveness of our research-led learning and teaching.