Our work underpins and contributes to diverse areas such as healthcare, lifelong well-being and healthy ageing alongside the biotechnology and pharmaceutical industries.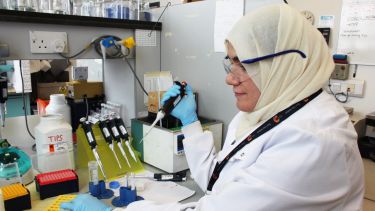 Chemical biology is the chemistry of, for, and from life. Members of this cluster apply chemical principles and techniques to understanding mechanisms in biology, use chemical synthesis to intervene in biological systems, and use biology as an inspiration to design and produce new or useful materials and systems.
Chemical biology major themes
Biological Chemistry and Mechanistic Biology - understanding the reactions and interactions fundamental to life
Medicinal Chemistry, Diagnostics and Imaging - including synthesis for biology
Functional Assemblies - protein bioengineering, synthetic biology and bio-inspired supramolecular chemistry
People
For further information about Chemical Biology at Sheffield please see the staff page of individual researchers below.
Professor Richard F.W. Jackson
Members of other research clusters active in chemical biology:
A world top-100 university
We're a world top-100 university renowned for the excellence, impact and distinctiveness of our research-led learning and teaching.