Chinese Festivals Celebrations | 中国节日庆祝
Celebrate the Lunar New Year with variety shows and an evening of performances. The Sheffield Confucius Institute is delighted to announce the upcoming 2023 Sheffield Lunar New Year Gala which will take place on Tuesday 24 January 2023.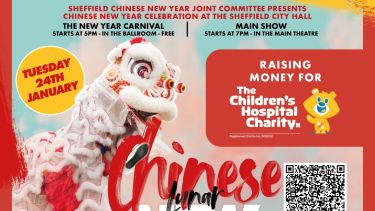 Off
As a member of a joint committee, the Confucius Institute works with Sheffield City Council, Sheffield Chinese Community Centre, Wanlin Dance Academy, Sheffield Hallam University and many more generous sponsors and supporters.
Every year, over 2000 people, including Chinese students, local Chinese families, local British people and wider communities across the city and region come together at Sheffield City Hall to celebrate the Lunar New Year festival and enjoy the greatest cultural experience of its kind. The 2023 celebration is a charity event. All fund generated will be donated to Sheffield Children's Hospital.
2023 Sheffield Lunar New Year Gala - The Year of the Rabbit
Chinese Lunar New Year 2023 at Sheffield City Hall, Barker's Pool, Sheffield S1 2JA, Tuesday 24 January 2023.
5pm, Stalls and Pre-Show at the Ballroom - FREE entry.
7pm, Evening Show at the Main Theatre-Irwin Mitchell Oval Hall, ticketed.
During the Pre-Show (FREE Entry) , we will
 Stage two exhibitions for UK-China Perspectives-Photography Competition and School Arts Competition.
 Present a prize-giving ceremony (a registration desk and information desk will be provided).
 Offer language and cultural stall activities, such as:
I Can Speak Chinese
Chinese Characters Games
Chinese Brush Painting 
Get a Chinese Name (calligraphy)
Auspicious Greetings and Phrases (calligraphy)
Arts and Crafts (Chinese paper-cutting)
Chinese Riddles and Maths Puzzles  
Chinese Cultural Crafts (to exchange activity vouchers with cultural items)
Tickets for sale at our Confucius Institute office, 2-4 Palmerston Road, Monday to Friday 09:00-17:00. Please contact us before your visit our office, Mobile: 07593502130, or Email confucius@sheffield.ac.uk
---
2022 Sheffield Online Spring Festival Gala - The Year of the Tiger
Held  Sunday 13th of February 2022, 19:00 UK time
Venue: The Octagon Centre, Sheffield S10 2TQ
To watch the Gala LIVE on Youtube, click here: https://www.youtube.com/channel/UCk3sOMDBwjlYBNlJqM6YUNQ
---
2021 Sheffield Online Spring Festival Gala - The Year of the Ox
Held: Sunday 7th of February 2021. 1:00PM UK time
Venue: Youtube account: Sheffield Chinese New Year   https://www.youtube.com/channel/UCDIK4bUY4YP03zjHHO9YLLw
The amazing line-up included incredible performances of traditional dance, acrobatics, orchestras and a variety of singers from around the world.
The Gala included performances from:
· British Wanlin Academy of Dance & Performing Arts
· The Jiangxi Acrobatic Troupe
· The National Orchestra of Nanjing University
· The Manchester University Chinese Choir
As well as:
· Chinese singer Yuanzi Fei, former lead singer of the band Chinese Spice Girls.
· British singer Phoebe Haynes, a graduate of the London Guildhall School of Music & Drama.
· Chinese actor & singer, Huozi Cheng, whose work includes appearances in "The Summer of the Wild Two" and "Do not walk the Rivers and Lakes".
· Professional ballroom dancers, Xiya Tian, Kai Kang, Yao Chen & Xiang Ji, all current students at the famous Beijing Dance Academy and award-winning dancers in various dancing competitions, both home and abroad.
· Nigerian singer, Zhao Xinlan, currently studying Chinese International Education at the Communication University of China and former runner-up of the 2018 National Chinese Bridge Competition in Nigeria.
And many more!
---
For more information, contact:
Email: confucius@sheffield.ac.uk
Events at the University
Browse upcoming public lectures, exhibitions, family events, concerts, shows and festivals across the University.