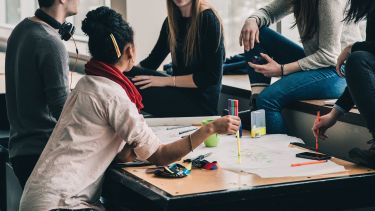 Off
CREED is involved in a range of cutting-edge multidisciplinary projects related to entrepreneurship, innovation and productivity.
Professor Vania Sena leads the team of CREED researchers working on the implication of digitalization on the future of the economy.
---
Professor Anthony Glass is working on water supply, retail services and sewerage services cost models for water companies, whilst industry regulator Ofwat develops its own cost models. After consultation with companies, Ofwat settles on the models to use to set caps on the prices companies can charge.
---
Professor Don Webber is exploring what attracts and sustains the screen industry workforce in Yorkshire and the Humber.
---
---
This project will focus on the ecosystem for impact entrepreneurship in Kampala, Uganda. It will include collaboration with international partners, network and relationship building activities, and preliminary research. This research will have the following objectives:
To map the ecosystem for impact entrepreneurship in Kampala
To examine interactions between impact entrepreneurs and this ecosystem
To identify ways to enhance relationships between impact entrepreneurs and their ecosystem
Staff involved: Dr David Littlewood
---
This is an ESRC funded project exploring the role of new technologies including artificial intelligence and machine learning in the professional services. This project focused in particular on the legal and accounting services which account for a significant proportion of professional services activity in the United Kingdom. The project involved a consortium of universities including the University of Sheffield, University of the Arts London, Lancaster University and the University of Manchester, alongside practitioner bodies including the Managing Partners Forum. The Next Generation Services advisory board contained industry and academic representatives to facilitate direct knowledge exchange at a senior level within the participating organisations and within those divisions tasked with innovation.
Staff involved: Dr Chay Brooks
---
Working with Sheffield Social Enterprise Network (SSEN), this project will analyse the state of the social enterprise sector in the Sheffield City Region. It will scope the value, reach and potential of social enterprises in the City Region, assess and highlight their impact, and provide best practice insights for struggling social enterprises. This project will entail work with SSEN to analyse existing quantitative data, as well as new qualitative data collection - interviews and focus groups. This will be used to showcase the impact of social enterprises and to build a strong narrative around their value, role and potential, assisting SSEN in its engagements with regional policymakers and wider stakeholders.
Staff involved: Dr David Littlewood | Dr Sergej Ljubownikow
---
Productivity (output per worker) in the SYCMA is characterised by large geographical variations among its constituent local authorities. According to the SCR Strategic Economic Plan, these differentials can be reduced by new inter/intra city transport schemes connecting future jobs to where individuals live. In practice, unlocking these productivity gains requires re-thinking the existing transport network in the SCR so that physical and economic connectivity is maximised. Additionally, ongoing Covid-19 restrictions have changed the geography of work. In light of these changes, the existing transport network (traditionally based around the principle of a 'hub and spoke' network) may be inadequate.
Professor Sena (SUMS), Dr Punzo (ACSE) and Dr Harabi (CSE) are working with the SYPTE to develop a decision-support tool allowing them to benchmark cities and their transport infrastructure against their optimal geographic arrangement and productivity potential. The tool will be used to identify the potential new routes across all transport modes which could maximise connectivity and regional productivity.
Staff involved: Professor Vania Sena
---
Professor Don Webber is exploring the value of REF participation, which poses the risk of discouraging and demoralising researchers. The research seeks to understand what makes a research culture which enables researchers.
Staff involved: Professor Don Webber
Flagship institutes
The University's four flagship institutes bring together our key strengths to tackle global issues, turning interdisciplinary and translational research into real-world solutions.