Staff Profile - Elif Kavun
Elif studied and worked in Germany before moving to the UK.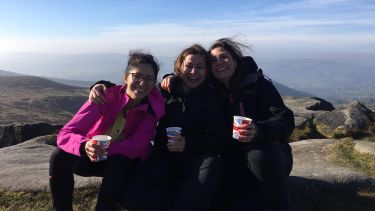 Tell us a bit about yourself and your background:
I am originally from Turkey, left my home country in 2011 for a PhD position at Ruhr University Bochum in Germany. After getting my PhD degree in 2015, I stayed in Germany and spent 4 years at Infineon Technologies in Munich as a Staff Engineer in Crypto Cores Design. Even though state-of-the-art product development was fun, I decided to return to academia as I missed research and started as a Lecturer in Cybersecurity at the University of Sheffield in 2019. I am involved in hardware security research as well as teaching especially security-related modules.
Why did you choose to work at Sheffield?
Our research group "Security of Advanced Systems" is relatively new and still developing -- now we have 4 academics (including myself), 3 RAs, and 11 PhD students. Thanks to our Cybersecurity and AI MSc program, I believe that our group will keep growing in the upcoming years.
I am mostly working on hardware security, that is a broad topic covering the development of security applications and schemes targeting specifically hardware devices (including IoT, etc) and security of hardware devices (for example, protecting them against attacks which are using their side-channel information). Other research topics in our research group include privacy-preserving authentication techniques, blockchain technologies, utilization of AI in intrusion detection systems, etc.
The people in Sheffield and particularly at the University and department are very friendly! It's easy to make friends. 

Dr Elif Kavun Lecturer in Cybersecurity
What's it like living in Sheffield, what do you like to do outside of work?
Even though it has only been a year since I started, I already have many friends. Especially the department night-outs are quite fun, I actually met my very first friends in Sheffield in such events.
In my spare time, I like doing Latin dances and there are many opportunities in Sheffield for this! There are several clubs offering Latin dance nights on different nights in a week and one can just drop in and dance!
I also like watching films -- some good cinemas include Student Union's Film Unit (great films at a very reasonable price), Showroom (especially for independent films), and The Light (quite comfortable place :) ).
I have also been interested in amateur theatre and music, and there are many many opportunities here in Sheffield to practice these!
On the weekends, Peak District is great for hiking! I try to visit different spots in the Peak District, especially when the weather is nice.
A world top-100 university
We're a world top-100 university renowned for the excellence, impact and distinctiveness of our research-led learning and teaching.