Staff Profile - Mauricio Álvarez
Mauricio studied in Colombia and in Manchester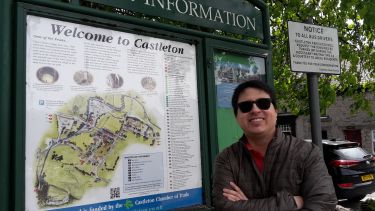 Tell us a bit about yourself and your background:
I received a degree in Electronics Engineering from Universidad Nacional de Colombia in 2004, a master degree in Electrical Engineering from Universidad Tecnológica de Pereira, Colombia in 2006, and a PhD degree in Computer Science from The University of Manchester, UK, in 2011. After finishing my PhD, I joined the Department of Electrical Engineering at Universidad Tecnológica de Pereira, Colombia, where I was appointed as Associate Professor until Dec 2016. From January 2017, I joined the Department of Computer Science at the University of Sheffield, as a Lecturer in Machine Learning. 
I'm a member of the Machine Learning group. I teach in the MSc in Data Analytics, particularly the modules on Machine Learning and Adaptive Intelligence and Scalable Machine Learning. I supervise students at the undergraduate, Masters and PhD levels. 
Why did you choose to work at Sheffield?
My research is on the development of new machine learning algorithms and applications of machine learning to different domains like robotics and medical imaging. My research group works on proposing new data analytics models to tackle prediction problems in datasets that are sparse, have a low resolution or different fidelities. 
I joined the Department attracted by its tradition of exceptional research in Machine Learning and development of open-source software. After being here for three years, I'm really happy with the support and friendship I've found in my colleagues and members of the staff. Also, by being part of the Faculty of Engineering, the Department offers great opportunities for collaborations with exceptional researchers across different domains. For example, I currently collaborate with researchers in other Departments like Automatic Control, Electronics and Electrical Engineering, and Civil and Structural Engineering. 
What's it like living in Sheffield, what do you like to do outside of work?
I enjoy going for a walk in the botanical gardens, in one of the many parks in the city, or in the peak district. I like the variety of restaurants available across the city and enjoy exploring the different food menus.
 
A world top-100 university
We're a world top-100 university renowned for the excellence, impact and distinctiveness of our research-led learning and teaching.