Prof. Guy Brown reappointed for second four-year term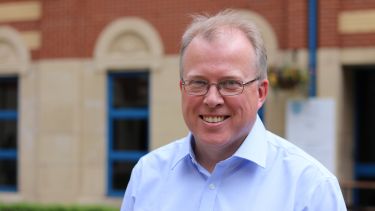 During Prof. Brown's first term, his focus has been on implementing the strategic review of the Department that was completed at the end of 2015. This planned for ambitious growth of staff and student numbers, with new staff recruitment in key areas such as cybersecurity.
Much of this five-year plan has already been achieved. Since 2015 the Department has doubled its total student intake, whilst also improving quality (the entry tariff for our 3-year undergraduate degrees is now AAA). With funding from HEFCE, we have launched two very successful new MSc programmes, the MSc in Data Analytics and the MSc in Cybersecurity & AI. The Department also won the HEFCE Institute of Coding competition, as part of a large consortium of Universities and industry partners led by the University of Bath. This has enabled us to employ additional teaching staff and play a leading role in developing a national agenda for developing digital skills at undergraduate and postgraduate levels.
In research, our expansion over the last three years has allowed us to broaden and deepen our research profile. Supported by investment from the University's Strategic Development Fund, a new Security of Advanced Systems group has been established led by Prof. John Clark (formerly of the University of York). Another high-profile appointment was Prof. Rob Hierons (formerly of Brunel University) who now leads our Testing group. We have cemented our research collaborations with Sheffield Teaching Hospitals and the AMRC through joint appointments, and grown staff numbers in key areas such as machine learning, algorithms and robotics. The last few years have also seen a step-change in our interaction with industry, through large grants such as PITCH-IN, a new collaboration with Siemens - the Mindsphere Lounge - and a new Centre for Speech and Language Technology funded by VoiceBase, a major silicon-valley provider of speech analytics software.
Prof. Brown is committed to creating an environment for our staff and students in which diversity and equality is respected and supported. In 2016, this was recognised by a Silver Athena SWAN award; we are one of very few computer science departments in the UK to hold such an award. Significant improvements have also been made to the Regent Court building over the last three years, in response to staff and student feedback. These include a new machine learning laboratory and a major refurbishment of the Lewin Laboratory, our main teaching facility, transforming it into a flexible work area with a laptop loan system. The Lewin Laboratory is increasingly being used for tech talks and other events, many of which are organised through the Institute of Coding.
In his second term, Prof. Brown will complete the implementation of the Department's strategic plan with further appointments in the areas of robotics, smart networks and computer vision. As well as strengthening our research profile in these areas, this will also allow the Department to provide additional research-led modules at undergraduate and masters level. A significant expansion of our estate is planned; by the end of 2020 we will have moved into, and fully refurbished, the East side of Regent Court, including the two upper floors currently occupied by the Information School.
Prof. Brown commented: "I am honoured to be leading the Department for a second four-year term. We are a great department at a time of great opportunity. My aim for the next few years is to ensure that we have a research base, teaching curriculum and facilities that will establish us as one of the very best computer science departments in the UK."
We are all extremely excited to see where the Department will be four years from now. Watch this space!