Dr Li Sun
PhD
Department of Computer Science
Visiting academic
Member of the Visual Computing research group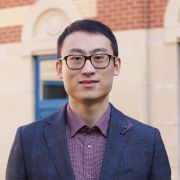 Profile

Li Sun (Kevin) was a Lecturer of Computer Science at University of Sheffield, since September 2021 he holds a visiting academic position. He was a Postdoctoral Research Fellow at the Oxford Robotics Institute, University of Oxford.

Kevin was awarded the prestigious national scholarship from the Scottish government and received PhD in robotics from the University of Glasgow in 2016. He worked as a postdoctoral research fellow at Lincoln Centre of Autonomous Systems, University of Lincoln (2017-2018) and Extreme Robotics Lab, University of Birmingham (2016-2017).

Since 2012, he has worked as a main researcher/contributor of several EU/EPSRC funded projects e.g. CloPeMa (€3.7 m), RoMaNs (€6.4 m), ILIAD (€6.9 m), and MobileRobotics (£4.9 m).
Research interests

Kevin's research focuses on the core challenges in the emerging robot vision to enable the robot to manipulate complex industrial objects eg deformable object and waste-like objects or drive in the dynamic, real-life environments eg warehouses, on-road/off-road driving. His research pursues the fantastic intersection between statistical machine learning and solid robotic system integration.

Research interests

Robotics and Autonomous Systems, Computer vision and machine learning.

Application fields

multi-sensors perception i.e. detection, recognition, tracking using RGB-D, LiDAR sensors
3D mapping and long-term robot localisation in changing environments
autonomous visually-guided robot manipulation and navigation
Publications

Journal articles

Conference proceedings papers
Grants

Current Grants

Towards long-term mapping and semantic guided robot navigation in changing environments, Royal Society, 10/2020 - 09/2021, £19,934, as PI
Advanced 3D mapping and long-term localisation with semantics understanding and terrain assessment for the planetary robot navigation, UKRI, 03/2020 - 09/2021, £144,950, as PI
Professional activities

Kevin is a member of IEEE, BMVA, EUcog, SICSA. He serves as reviewers in top tier robotics and AI conferences e.g. RSS, ICRA, IROS, NIPS, AAAI and journals eg IJRR, TRO, RA-L. He is a member of the Visual Computing research group for the University of Sheffield.