Professor Fabio Ciravegna
PhD
Department of Computer Science
Professor of Pervasive Technologies
Academic Director of University Technology Centre on Artificial Intelligence for Defence and Security
Head of the Organisations, Information and Knowledge (OAK) research group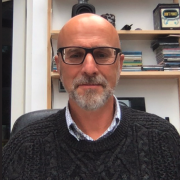 Profile

Fabio Ciravegna is Professor of Pervasive Technologies and Head of OAK Group. He is the Academic Director and founder of the University Technology Centre in Artificial Intelligence for Defence and Security.

His research field concerns large scale data collection and analysis from multiple devices and multiple modes. 

He has created technologies for tracking mobility used by a million users and which have collected over a billion mobility data points. He has created three spin out companies, two of which in the area of tracking and modelling mobility. 

He is currently the CEO of Aeqora Ltd (aeqora.com), a company providing solutions for tracking of physical movements using mobile technologies and IoT.  

In 2016-1019 he was the director of the European project Seta, (www. setamobility.eu, 15 partners, €5.5m) which aimed to build a ubiquitous data and service ecosystem for metropolitan mobility.

In 2012-2016 he was Director of the European Project WeSenseIt (14 partners, €6.5m budget) on creating citizen observatories of water. In 2006-2010 he was director of the European Integrated Project IST XMedia (15 partners, €13.6m budget) and in 2002-2005 he was director of the EU project Dot.Kom. He is part of the editorial board of the International Journal on Web Semantics. 

In 2009-2012 he was the Director of Research and Innovation in the Digital World for the University of Sheffield.

In 2009 he was General Chair of the European Semantic Web Conference. He holds a PhD from the University of East Anglia and a Doctorship from the University of Torino, Italy.
Research interests

Focus is on knowledge and information management over large scale. The research covers 3 main areas:

How to capture information over large scale (the Web, the Social Web, distributed organisational archives, mobile devices, drones, sensors, etc)
How to use the captured information (eg for knowledge management, business intelligence, customer analysis, management of large scale events via social media)
How to communicate the information (to final users, problem owners, etc)

Research areas covered are knowledge and information management, Web technologies, human computer interaction, search technologies and natural language processing.

Prof Ciravegna's research income since 2006 tops £8.5 million, of which about 15% directly from industry (eg Rolls-Royce plc, Football Whispers, JustGiving, etc)
Publications

Books

Journal articles

Chapters

Conference proceedings papers

Posters
Grants

Current grants

A new resource for behavioural science - Developing tools for understanding the relationship between behaviours, ESRC, 01/2021 - 06/2023, £551,316, as Co-PI

Mobilise-D: Connecting digital mobility assessment to clinical outcomes for regulatory and clinical endorsement, EC H2020, 04/2019 - 03/2024, £1,227,496, as Co-PI

Previous grants

Translating digital healthcare to enhance clinical management: evaluating the effect of medication on mobility in people with PD through remote monitoring tools. MRC, 04/2021 - 03/2022, £9,346, as PI
University Technology Centre on Artificial Intelligence for Defence and Security, funder DSTL, 2020 - 2022, as PI
The Automated Traveller II, DSTL, 2020 - 2021, as PI
The Automated Traveller, DSTL, 2019 - 2020, as PI
Early detection of Papilloedema and Diabetic Retinopathy, Innovate UK, 11/2018 - 09/2019, £58,611, as Co-PI
SETA: An open, sustainable, ubiquitous data and service ecosystem for efficient, effective, safe, resilient mobility in metropolitan areas, EC H2020, 02/2016 - 01/2019, £970,000, as PI
Sustained Process Excellence through Embedding of Analytics and Knowledge Management into Process Chains, Innovate UK, 10/2014 - 03/2016, £95,350, as Co-PI
Crowdsourcing for Observations from Satellites, European Space Agency France, 02/2015 - 03/2016, £85,360, as PI
ReDites: Real Time, Detection, Tracking, Monitoring and Interpretation of Events in Social Media, EPSRC, 07/2013 - 07/2014, £51,398, as PI
WeSenseIT: Citizen Observatories of Water, EC FP7, 10/2012 - 09/2016, £817,196, as PI
Time to change! Using the transition from school to university to promote healthy lifestyle habits in young people, MRC, 04/2012 - 12/2014, £330,463, as Co-PI
The BIG Energy Upgrade, European Regional Development Fund, 07/2010 - 03/2014, £865,090, as Co-PI
Siloet, Rolls Royce PLC, 03/2010 - 12/2013, £140,000, as PI
Samulet, Rolls Royce PLC, 11/2009 - 12/2013, £100,000, as PI
TRIDS: Tracking Real-time Intelligence in Data Streams, Innovate UK, 07/2011 - 12/2011, £49,184, as PI
SEALS: Semantic Evaluation At Large Scale, EC FP7, 06/2009 - 06/2012, £251,236, as PI
SmartProducts: Proactive Knowledge for Smart Products, EC FP7, 02/2009 - 01/2012, £554,594, as PI
Rolls Royce, Rolls Royce PLC, 10/2008 - 06/2009, £91,349, as PI
weKnowIt: Emerging, Collective Intelligence for personal, organisational and social use, EUROPEAN COMMISSION - FP6/FP7, 04/2008 - 03/2011, £607,521, as PI
Archaeotools: Data mining, facetted classification and E-archaeology, University of York, 09/2007 - 08/2009, £146,591, as PI
MultiMATCH: Multilingual/Multimedia Access to Cultural Heritage, EC FP7, 05/2006 - 10/2008, £237,101, as Co-PI
ARMADILLO: Information Mining in Distributive Research Datasets in the Arts and Humanities, AHRC (AHRC), 10/2005 - 10/2007, £35,856, as PI
X-Media: Knowledge Sharing and Reuse Across Media, EC FP7, 03/2006 - 02/2010, £1,431,822, as PI
IPAS: Integrated Products and Services, Department of Trade and Industry, 04/2005 - 09/2008, £222,225, as PI
Collaboration with Environmental Agency, Environment Agency, 04/2005 - 05/2006, £20,000, as PI
Abraxas: Automating Ontology Learning for the Semantic Web, EPSRC, 10/2004 - 01/2007, £164,614, as Co-PI
Dot.Kom: Designing adaptive infOrmation exTraction from text for KnOwledge Management, EC FP6, 10/2002 - 03/2005, £447,455, as PI
Professional activities

Head of the Organisations, Information and Knowledge research group

Academic Director of University Technology Centre on Artificial Intelligence for Defence and Security

Recent projects for the University Technology Centre: 

2019-2020 The Automated Traveller, funder Defence Science and Technology Lab, undisclosed amount 
2020-2021  The Automated Traveller II, funder Defence Science and Technology Lab, undisclosed amount 
2020-present  University Technology Centre on Artificial Intelligence for Defence and Security, funder Defence Science and Technology Lab, undisclosed amount

Fabio Ciravegna has created three spin-out companies. He is:

Co-founder, CEO and Director of Aeqora Ltd, a University of Sheffield spin-off Company providing mobility services
Co-founder and Director of K-Now Technologies Ltd, a University of Sheffield spin-off company
Co-founder and Scientific Advisor to The Floow, a company providing telematics motor insurance solutions