Professor Lucia Specia
Department of Computer Science
Professor of Language Engineering
Member of the Natural Language Processing research group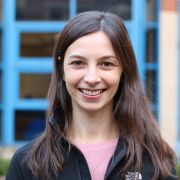 Profile

Lucia Specia is a Professor of Language Engineering. She has a PhD degree from the University of São Paulo, Brazil, in 2007, where she was supervised by Maria das Graças Volpe Nunes from the Núcleo Interinstitucional de Linguística Computacional (NILC), USP - Brazil, and Mark Stevenson from the Natural Language Processing Group, Sheffield University - UK.

The topic of her PhD was Word Sense Disambiguation applied to Machine Translation. After graduating she worked worked as senior lecturer at the University of Wolverhampton (2009-2011), where she was a member of the Computational Linguistics research group.

She also worked as research engineer for the Machine Learning for Document Access and Translation group, at the Xerox Research Centre Europe, in France (2008-2009).
Research interests

Professor Specia's research covers a range of Natural Language Processing topics, mainly Machine Translation and Text Adaptation.
Publications

Books

Journal articles

Chapters

Conference proceedings papers

Working papers

Datasets
Grants

 Current grants

Previous grants

Bergamot: Browser-based Multilingual Translation, EC H2020, 01/2019 - 12/2021, £473,113, as PI
APE-QUEST, European Commission - CEF, 10/2018 - 09/2020, £185,000, as PI
A Multimodal and Multilingual Framework for Video Captioning, British Council, 02/2018 - 09/2018, £275,706, as PI
Predicting Relevance and Quality of Machine Translation for Product Reviews, Amazon Research Grant, 09/2017 - 12/2018, £52,308, as PI
MultiMT: Multi-modal Context Modelling for Machine Translation, EC H2020, 07/2016 - 09/2018, £1,167,009, as PI
SIMPATICO: SIMplifying the interaction with Public Administration Through Information technology for Citizens and cOmpanies, EC H2020, 03/2016 - 02/2019, £353,000, as PI
QT21: Quality Translation 21, EC H2020, 02/2015 - 01/2018, £232,500, as PI
Cracker: Cracking the Language Barrier: Coordination, Evaluation and Resources for European MT Research, EC H2020, 01/2015 - 12/2017, £61,983, as PI
Modelling Discourse in Statistical Machine Translation, EPSRC, 12/2013 - 05/2015, £99,127, as PI
EXPERT: EXPloiting Empirical appRoaches to Translation, EC FP7, 10/2012 - 09/2016, £531,868, as PI
QTLaunchPad: Preparation and Launch of a Large-Scale Action for Quality Translation Technology, EC FP7, 07/2012 - 06/2014, £142,123, as PI
Professional activities

Member of the Natural Language Processing research group