Dr Rayna Dimitrova
PhD
Department of Computer Science
Lecturer in Verification
Member of the Verification research group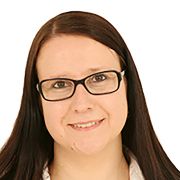 Profile

Dr. Rayna Dimitrova is a Lecturer in Verification at the Department of Computer Science at the University of Sheffield since January 2020. Before joining the University of Sheffield she was a Lecturer at the School of Informatics at the University of Leicester, UK.

Prior to that, she was a postdoc at The University of Texas at Austin, USA, and before that at Max Planck Institute for Software Systems, Germany. She obtained her PhD from Saarland University, Germany.
Research interests

Dr. Rayna Dimitrova works in the area of formal methods, and her research interests include verification (mathematically proving system correctness) and synthesis (correct-by-design system construction) of reactive systems, quantitative verification of probabilistic systems, and applications of formal methods to control and robotics.
Publications

Journal articles

Conference proceedings papers
Professional activities

Member of the Verification research group