Dental student society raise funds for a summer studentship to study oral cancer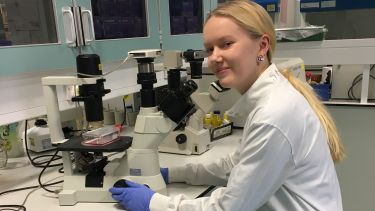 Rosie Willis, a student in the Department of Molecular Biology and Biotechnology, spent time in the Academic Unit of Oral Pathology. Dr Simon Whawell, Rosie's supervisor said, "For a long time I have wanted to follow up on a serendipitous observation that when oral cancer cells are in suspension, they rapidly increase production of proteins that mediate interactions between cells - and this provided an ideal project opportunity."
Rosie gained hands on experience of oral cancer cell culture and molecular biology techniques to measure gene expression. In thanking the School for the opportunity, Rosie said "I thoroughly enjoyed my summer studentship at the Dental School. I was given the opportunity to work independently in the lab and have since gained much more confidence in planning and executing an experiment. It was an invaluable insight into the world of research which will stand me in good stead in the future."
Another studentship is planned for summer 2020 along with a short period of research open to current dental students.
A world top-100 university
We're a world top-100 university renowned for the excellence, impact and distinctiveness of our research-led learning and teaching.