Professor Chris Deery
BDS, MSc, FDS RCS Ed, PhD, FDS(Paed Dent) RCS Ed, FDS RCS Eng, FHEA
School of Clinical Dentistry
Dean of the School of Clinical Dentistry
Professor/Honorary Consultant in Paediatric Dentistry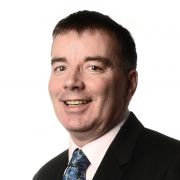 Profile

I graduated from Edinburgh University in 1984. Periods in general dental practice and the community dental service, where followed by a masters degree from Bristol. I then moved to the Dental Health Services Research Unit, University of Dundee. I became a Consultant in Paediatric Dentistry, Edinburgh Dental Institute in 2001 and became Professor of Paediatric Dentistry, University of Sheffield in 2006. I have also had a number of NHS management roles, including being Associate Clinical Director, Charles Clifford Dental Services. I was appointed Dean of the School of Clinical Dentistry, University of Sheffield in 2015.

I am Chair of Dental Schools Council and the Consultants in Paediatric Dentistry Group, UK. In these roles I am very involved in the improvement of dental education and dental care in the UK. I am particularly interested in meticulous caries diagnosis and a founder member of International Caries Detection & Assessment System (ICDAS) Co-ordinating Committee.  I was Editor-in-Chief of the International Journal of Paediatric Dentistry for seven years (2010-17). Currently I am member of the Scientific Committee of the International Association for Paediatric Dentistry.
Research interests

My research interests are preventive dentistry, cariology, evidence based dentistry, research in primary care and child focused research come together in the NIHR Fiction Trial (Filling children's teeth indicated or not?), which is the largest randomized controlled trial ever undertaken in dentistry. This trial in primary care will significantly change the dental care of children. Recent research has looked at restorative caries management options and the use of fissure sealants.

I am particularly interested in improving caries diagnosis because I believe this will improve patient outcomes. My research has looked at both meticulous visual caries diagnosis and the use of diagnostic aides and devices, such as laser fluorescence.

I am Chief Investigator on a large Multicentre trial looking at melatonin as an alternative to midazolam as a pre-medication in children (The MAGIC Trial).
Publications
Research group

PhD students

Lamis El sharkasi. The histochemistry of proximal caries in primary teeth.
Bhupinder Dawett. The implementation and acceptability of a Minimum Intervention Care plan for carious permanent teeth in children attending NHS dental practice – a feasibility study. (NIHR Doctoral Research Fellowship).
Ahmed Marghalani. An evaluation of oral health services for children with disabilities in Medinah, Kingdom of Saudi Arabia. (Ethnographic case study)
Eleanor Ashworth. The remineralisation of erosion and caries affected dentine by infiltration with colloidal nanoparticles. (2017)
Alaa Bani Hani. The outcome of caries management at two specialist centres, a qualitative and quantitative investigation. Joint with University of Leeds (2016)
Fiona Gilchrist. The impact of dental caries and dental care in children (2015) NIHR doctoral research fellowship
Samiya Subka. Validity and acceptability of approximal caries diagnosis in primary teeth (2015)
Nicola Parkin. Open versus Closed exposure of canine teeth (2012)
Paul Dawson. Social construction of dental decay (2012)
Maryam Bahrami. An investigation into the implementation of clinical guidelines in the general dental services. University of Dundee (2004)
Teaching activities

I teach and examine undergraduate dental and dental hygiene and therapy students in all years. I also teach on the Schools PGT Programmes, including the one in Paediatric Dentistry, which I am the founder director.

I provide continuing professional development and keynote lectures Nationally and Internationally. These presentations are principally on paediatric dentistry and cariology.

I am also an external examiner for undergraduate, postgraduate and PhD degrees nationally and internationally.

I also examine MFDS RCS Ed, M Paed Dent RCS Ed, Tri-collegiate Membership in Paediatric Dentistry, Conjoint MPD RCS(Ed) and FCDSHK (Intermediate) Examination in Paediatric Dentistry, RCS Ed Diploma in Paediatric Dentistry for Dental Therapists.

I also have been a trainer NHS junior staff for twenty years.
Professional activities

Chair Dental Schools Council
Chair Consultants in Paediatric Dentistry Group UK
Editorial Board Member Dental Update
Regional Advisor Royal College of Surgeons of England (South Yorkshire and Trent)
Member Speciality Advisory Board in Paediatric Dentistry, Royal College of Surgeons of Edinburgh
Member Tri-collegiate Membership in Paediatric Dentistry Board
Advisory Board for Foundation Training in Dentistry
Academic Strategy Core Group Workshop
Dental Foundation Training Undergraduate Liaison Group
Joint Committee for Postgraduate Training in Dentistry
Senate of Dental Specialties
MDRS Dental Recruitment Subgroup
Member James Lind Alliance. Oral and dental Health Priority Setting Partnership Steering Group
Delivering Better Oral Health version 4 - Development Oversight Group

Clinical

I am an Honorary NHS Consultant in Paediatric Dentistry based in the Charles Clifford Dental Hospital. I also care for patients at Sheffield Childrens Hospital, where I provide comprehensive care under general anaesthesia.

In the area of clinical management I have been the NHS Clinical Lead for Paediatric Dentistry and the Associate Clinical Director Charles Clifford Dental Services.