Professor Keith Hunter
BSc (Hons), BDS, FDS RCSEd, PhD, FRCPath, FHEA
School of Clinical Dentistry
Professor in Head and Neck Pathology
Head, Unit of Oral and Maxillofacial Medicine and Pathology
Course Director, MMedSci in Diagnostic Oral Pathology
Training Program Director in Oral Pathology (HEE Yorkshire and Humber)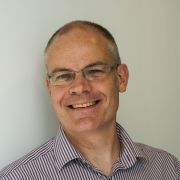 Profile

I was appointed as Senior Clinical Lecturer and honorary consultant in Oral Pathology at the University of Sheffield in April 2009, promoted to Reader in 2015 and to Personal Chair in 2017. Before this, I trained in Oral Pathology at Glasgow Dental School and Glasgow Royal Infirmary and undertook my PhD at the CRUK Beatson Institute for Cancer Research in Glasgow. Before entering pathology training I worked in hospital dentistry and in general dental practice.

I am a specialist Academic Oral and Maxillofacial Pathologist with a wide interest in oral pathology, head and neck pathology and cancer biology. In addition to my roles in Sheffield I am actively involved in overseeing the Speciality nationally and in promotion of Oral Pathology internationally.
Research interests

My main research interest is in the early events in oral carcinogenesis and keratinocyte senescence/immortalisation, particularly the genetic and epigenetic events associated with early invasion. I have ongoing projects investigating patterns of gene expression and genomic alteration in HNSCC, epigenetic control of gene expression and the roles of the inflammatory and other stromal responses in early HNSCC. I also provide specialised histopathology support to a number of projects across the Faculty of Medicine, Dentistry and Health, in addition to wider collaborations.

The role of HOX genes in HNSCC: This project aims to assess the function and prognostic significance of a number of HOX genes in HNSCC, and to explore strategies for inhibition.
The role of IL1RA in keratinocyte senescence and oral cancer development: IL1 signalling is very important in the development of the senescence associated secretory phenotype (SASP) in keratinocytes. This project explores the consequences of manipulation of expression of IL1RA.
Role of FANC pathway in HNSCC: DNA damage repair is very important in maintenance of the genome and if defective can increase the risk of cancer development. The Fanconi anaemia pathway shed light on how various sources of DNA damage may result in the development of HNSCC
The role of the stroma interactions in HPV+ and HPV- OPSCC. HPV is responsible for the majority of cases of SCC in the oropharynx. We are interested in how these SCC cells interact with their supporting stroma and how that may dictate differences in clinical outcome seen in HPV+ and HPV- tumours.
Dental Lamina rests: stems cells and regenerative potential. This project, in its early stages, aims to determine the potential of the residual dental lamina as a source of epithelium which may aid in regeneration of teeth.

My main clinical research interests are in the use of sentinel node biopsy in Head and Neck cancer and other clinical prognostic factors in Head and Neck Cancer. I also have a particular interest in tooth pathology and odontogenic lesions/tumours.
Publications
Research group

Current PhD students

Naeima Hendawi
Constanza Marin
Esra Amoura (Second supervisor)
Malwina Matella (second supervisor)
Teaching activities

I am Course Director and a module convenor (ORP607) for the MMedSci in Diagnostic Oral Pathology.
I teach general and oral pathology in BDS years 1, 2, 4 and 5, in a combination of lectures, seminars, practical classes and case based discussions.
I am external Examiner for the Royal College of Pathologists (FRCPath).
Professional activities

Extraordinary Professor, University of Pretoria, South Africa
Adjunct Professor, Manipal University, India
I am the Chair of the SAC for Additional Dental Specialities, a standing committee which oversees training in the ADSs (Oral Pathology, Oral Medicine, Oral Microbiology and Dental and Maxillofacial Radiology).
I am the Sub-Speciality Advisor in Oral Pathology to the Royal College of Pathologists
member of Council of the British Society of Oral and Maxillofacial Pathology.
Member of the steering committee of the EORTC Head and Neck Cancer group. This group oversees clinical trials in Head and Neck cancer across the EU.
Editorial board of Head and Neck Pathology and Oral Surgery, Oral Medicine, Oral Pathology and Oral Radiology

Clinical

With two consultant colleagues, we provide the regional specialist Oral and Maxillofacial Pathology diagnostic service. This covers the full range of the practice of Oral and Maxillofacial Pathology from mail-in biopsies from primary care through to extensive maxillofacial resections, a specialist tooth pathology service and tertiary/expert referrals. We contribute to the regional Head and Neck MDT. We are also one of the largest centres in the UK for training in Oral and Maxillofacial Pathology, with 2 StRs and 2 DCTs.