Dr Keyvan Moharamzadeh
BSc, DDS, PhD, FHEA, FDSRCS
School of Clinical Dentistry
Senior Clinical Lecturer in Restorative Dentistry
Honorary Consultant in Restorative Dentistry
Specialist in Prosthodontics, Periodontics, Endodontics and Restorative Dentistry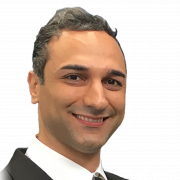 Profile

I completed a double degree in Chemistry and Dentistry in 2003 and obtained my PhD in Restorative Dentistry from the University of Sheffield in 2006.

Following a year of further clinical training in Oral and Maxillofacial surgery, I joined the University of Sheffield as a Clinical Lecturer in Restorative Dentistry in 2007 and have been closely involved with undergraduate and postgraduate teaching and research at the School of Clinical Dentistry.

I enrolled on an academic specialist training programme in Restorative Dentistry in 2009 and following successful completion of 5 years specialty training and passing the Intercollegiate Specialty Fellowship Exam (ISFE), I was awarded CCST and became a specialist in Prosthodontics, Periodontics, Endodontics and Restorative Dentistry and acquired the fellowship of the Royal College of Surgeons of England in 2015.

I also obtained my Postgraduate Certificate in Teaching and Learning from the University of Sheffield and became a fellow of the Higher Education Academy in 2012.

I was promoted to a Senior Clinical Lecturer and Consultant in Restorative Dentistry in 2016.
Research interests

I am leading multidisciplinary internationally recognised research in the field or Dental Biomaterials and Tissue Engineering. I have extensively published in the literature and given numerous presentations in the national and international conferences.
My main research activities fall into four different categories:

Tissue engineering of human alveolar bone and oral mucosa and development of three dimensional tissue models for various laboratory and clinical applications.
Biocompatibility assessment of dental biomaterials and oral healthcare products.
Chemical synthesis and analysis of polymers and composite materials used in dentistry and medicine.
Investigation of physical and optical properties of different types of aesthetic dental materials.

Current research groups
Publications
Research group

W. L. Chai (PhD) Development of an engineered transmucosal model for implant/soft tissue interface studies (with Profs I. M. Brook and R. van Noort) 2007-2010
Z. Berahim (PhD) Investigations on the growth of cells of importance in periodontal regeneration in-vitro (With Prof A Rawlinson and Dr A K Jowette) 2006-2009
A. Rice (PhD) Development of a 3D gingival mucosal model to study P. Gingivalis invasion (with Prof I. Douglas) 2008-2011
F. Bye (PhD) Development of tissue engineered oral mucosa for treatment of cleft palate (with Prof S. MacNeil) 2010-2013
Thafar Almela, Development of a tissue engineered oral osteo-mucosal model (with Prof I.M. Brook) 2014-2017
Teaching activities

I am the Course Lead for postgraduate DClinDent Prosthodontics programme and Module Lead for Principles of Conservative Dentistry (DClinDent course). I represent Restorative Dentistry department at the STH NHS Trust Oral and Dental Research Executive Committee.

My main teaching activities include:

Clinical and laboratory teaching of undergraduate BDS dental students
Clinical teaching of post-graduate taught (DClinDent) students
Student research project supervision including Masters and PhD projects
Lectures and seminars to the undergraduate and postgraduate students, General Dental Practitioners, dental foundation trainees and specialty registrars in Restorative Dentistry.
Professional activities

Member of the International Association of Dental Research (IADR)
Member of the British Society for Oral and Dental Research (BSODR)
Member of the British Society for Restorative Dentistry (BSRD)
Member of the British Society for Periodontology (BSP)
Member of the Association of Consultants and Specialists in Restorative Dentistry (RD-UK)
Member of the European Society for Biomaterials (ESB)
Member of the UK Society for Biomaterials (UKSB)
Member of the Academy of Dental Materials (ADM)
Member of Dental Protection (DP)
Fellow of Higher Education Academy (FHEA)
Fellow of Royal College of Surgeons of England (FDSRCS)

Clinical

I am a registered specialist in Prosthodontics, Periodontics, Endodontics and Restorative Dentistry. My clinical work has included both private dental practice and hospital-based treatment of patients referred by the General Dental Practitioners for advanced restorative rehabilitation. I have a broad area of clinical interest ranging from periodontics to dental implants and prosthodontic management of compromised dentition as well as aesthetic dentistry. I am also interested in clinical audit and research of the outcome of endodontic treatment.