Professor Philip Benson
PhD, FDS (Orth)
School of Clinical Dentistry
Professor of Orthodontics
Honorary Consultant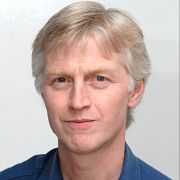 Profile

I have been at Sheffield since 2000, when I was appointed Senior Lecturer/Honorary Consultant in Orthodontics. I was promoted to Reader in 2008 and to a personal chair in 2014. Previously I was Lecturer in Orthodontics at Liverpool (1995 until 2000) and Specialist Registrar in Orthodontics at the University of Manchester (1991 and 1994).

I am currently Professor of Orthodontics and Honorary Consultant at Sheffield Teaching Hospitals NHS Foundation Trust.

I contribute to a range of activities within the School, through my dual roles as clinician, treating and supervising the treatment of patients requiring orthodontic care, and academic, contributing to new knowledge and understanding within the specialty, as well as passing this on to future generations. I am involved in the administration, development and delivery of both the orthodontic and the dental curriculum, as well as the management of the School.
Research interests

I undertake research relevant to the clinical practice of orthodontics. My primary research interest is investigating the effectiveness of contemporary orthodontic techniques and practice. I am the principal or co-author on five systematic reviews published in the Cochrane Library and I have planned, coordinated and completed several randomised controlled clinical trials. I am also interested in oral health-related quality of life and the development of patient reported outcomes (PROs) to measure the impact of malocclusion and orthodontic treatment on young peoples' everyday lives.

I have collaborated with orthodontic colleagues at UCL Eastman Dental Institute, London to develop the Malocclusion Impact Questionnaire. The aim of this questionnaire is to assess the day-to-day affect that malocclusion has on young people and will help us to quantify the impact and measure any changes following orthodontic treatment. It may also assist us in identifying which young people might benefit most from treatment.
Publications
Research group

Hanieh Javidi - RCS-BOS Clinical Research Fellow and Senior Specialist Trainee in Orthodontics

Thitika Kimise - Postgraduate Research Student
Teaching activities

Orthodontic sub-course lead for the BDS programme
Clinical supervision and teaching of 3rd BDS student 1.5 sessions per week
Delivery of the majority of orthodontic lectures during the BDS programme
Postgraduate Programme Director for the degrees of Master of Clinical Dentistry in Orthodontics and Doctor of Clinical Dentistry in Orthodontics
Lead for 4 specialist masters modules and 1 generic module
Currently supervising 3 masters & 1 taught doctorate dissertation projects.
Professional activities

Training Programme Director for Sheffield Dental Academic Trainees, September 2018 to present
Research Director of the British Orthodontic Society - January 2017 to December 2019
British Orthodontic Society University Teachers Group representative on the Orthodontic National Recruitment Working Group (January 2016 - December 2020)
Regional Dental Advisor Royal College of Surgeons of Edinburgh - October 2012 to present (appointment renewed October 2016).

Clinical

I practice clinical orthodontics, for two days a week, at the Charles Clifford Dental Hospital. This is a dental teaching hospital, administered by Sheffield Teaching Hospitals NHS Foundation Trust and affiliated to the University of Sheffield. As well as treating my own patients, I supervise undergraduate and postgraduate clinical treatments. I have an interest in the treatment of young people with developmental absence of teeth (hypodontia) and in order to help manage treatment appropriately I hold regular multi-disciplinary joint clinics and consultations with colleagues in Restorative Dentistry.