Dr Simon Whawell
BSc (Hons), FHEA, DipEd, PhD
School of Clinical Dentistry
Reader in Oral Science
Faculty Lead for Postgraduate Taught Studies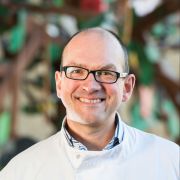 Profile

I am a biochemist and cell biologist with an interest in the molecular mechanisms of disease. Following undergraduate studies in Life Sciences I carried out a PhD and postdoctoral work at St Mary's & the Hammersmith Hospitals in London on peritoneal adhesions. I then worked in the field of vascular biology before I joined Professor Paul Speight's group at the Eastman Dental Institute UCL and then the School of Clinical Dentistry Sheffield in 2003.

I currently lead research projects in the area of periodontal cellular microbiology and oral cancer cell biology. I also lead a team carrying out services rendered work using 3D cell culture models of oral mucosa for our industrial partner Colgate-Palmolive Inc. (with Dr Helen Colley and Dr Craig Murdoch). I teach undergraduate and postgraduate students in basic and pathological science.
Research interests

I have always worked in the area of extracellular matrix biology, the proteases that modify this and the receptors that bind to it (integrins). My current research interests lie in two areas:

Cellular microbiology: collaborative studies investigating the mechanism of Staphylococus aureus invasion of human cells started at the Eastman Dental Institute have continued with Professor Ian Douglas in Sheffield. Specifically we have investigated the observation that when a culture of human oral epithelial cells is exposed to the periodontal pathogen Porphyromonas gingivalis, some cells are invaded whilst other cells are not.

Oral cancer cell behaviour: following extensive research of the role of integrins in oral cancer cell behaviour current work is focussed on the role of cancer stem cells in communication with fibroblasts in the tumour microenvironment and modelling of interstitial fluid flow and the effects this has on cell phenotype and genotype (with Dr Dan Lambert).
Publications
Research group

Research Assistant:

PhD students:

Firas Al-Taweel
Sadhvi Nithiananthan
Mohanad Al-Magsoosi
Amir Zubir (Co-supervisor)
Hannah Clemmens (Co-supervisor)

Intercalating BMedSci student:
Teaching activities

DEN103: Lectures & practical classes on basic cell biology, biochemistry & histology
DEN104: Practical class on Fluoride
DEN203: Lectures on basic cell biology, biochemistry and ageing
DEN204: Symposium on wound healing
MMedSci Diagnostic Oral Pathology: Seminar and practical class on cell culture
MSc Translational Oncology: Seminar on tumour microenvironment
Professional activities

External BDS examiner (Oral Biology) at Kings College London and University of the West Indies, Trinidad.
International Society for Dental Research (IADR), Committee Member and 'member at large' for the IADR Oral Medicine and Pathology group.
Editorial board: Journal of Oral Pathology & Medicine.
National and International (Republic of Ireland and Norway) PhD examiner.
External scientific adviser to the 'All about me' exhibition development committee at the Eureka! National Children's Museum in Halifax (2012-14).
Chair of the Awards Committee & member of the Management Committee (2008-2015), British Society for Oral and Dental Research.