The CALM trial is a research project investigating ways to reduce children's fear of the dentist. CALM is being carried out by researchers (from universities in Sheffield, Cardiff, Leeds, Newcastle, London & York) with help from children, parents, dental professionals and patient representatives.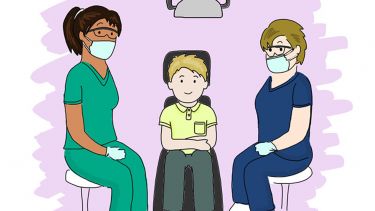 Enquiry form for dental professionalsWe know that a visit to the dentist can make many children feel anxious. Children with dental anxiety have poor oral health (more tooth decay and extractions) and may have a lifetime of avoiding the dentist. Dentists themselves find it stressful to treat children who feel anxious and frequently refer them to specialist services for sedation or general anaesthetic (GA). This has additional costs to the NHS and a burden to the family. A simple and cost-effective way of helping dentally anxious children is needed. 
In 2015, an intervention called 'Your Teeth You Are In Control' was developed to reduce children's dental anxiety based on guided self-help cognitive behavioural therapy (CBT). There is strong evidence to support the use of CBT, a 'talking therapy', for other forms of anxiety and mental health conditions. This intervention includes resources for children aged 9-16 years, their parents and dental professionals. The resources help children understand what makes them anxious, provide dental information, suggest strategies for reducing anxiety and coping better, encourage reflection and support better communication. 
Child dental anxiety resources
When this intervention was used with dentally anxious children, referred to hospital or community dental service (secondary care), there was a reduction in their dental anxiety, improved dental attendance and less need for GA. CALM will find out if this intervention works in general dental practice (primary care) where the vast majority of children are seen. 
The aim of this 4-year study is to compare the clinical and cost-effectiveness of the guided self-help CBT intervention delivered to dentally anxious children by primary care dental professionals compared to 'usual' care. We will investigate the effects on children's dental anxiety, quality of life, dental attendance and the need for specialist services. We will also compare the cost and feasibility of this approach compared to usual care. We will conduct a randomised controlled trial with an internal pilot. 
Overall, 600 children with dental anxiety aged 9-16 years will be recruited from 30 dental practices across the UK. In each dental practice there will be two dental professionals taking part; one will be randomly assigned to receive the training and deliver the intervention and the other will deliver usual care. Children with dental anxiety attending these practices, who need treatment (and consent to take part) will be randomly allocated to be treated by either the CBT-trained dental professional or the non CBT-trained (control) dental professional. Children will complete questionnaires about outcomes including their dental anxiety, oral health and general health-related quality of life before treatment, just after treatment completion and 12 months later to allow a comparison between the two groups. We will also compare attendance rates, need for sedation/GA and the costs of each approach. 
The feasibility of the trial will be considered one year after recruitment starts, and the trial will be stopped if we have not met agreed targets. A process evaluation will also be conducted. We have worked with children, parents and PPI members to develop the study. We will share our findings widely with guideline developers, policy-makers, dental professionals and the public through publications, conference presentations, social media and public events.
To contact The CALM trial team please email:
Professor Zoe Marshman - Z.Marshman@sheffield.ac.uk
If you are a dental professional interested in taking part in The CALM trial please complete the enquiry form.
You can also follow us on Twitter: @ChildDentalCBT
CALM is funded by the National Institute for Health Research Health Technology Assessment Programme (project number 131805, https://fundingawards.nihr.ac.uk/award/NIHR131805). 
The CALM trial is sponsored by the Sheffield Teaching Hospitals NHS Foundation Trust. 
The trial is led by Professor Zoe Marshman at the School of Clinical Dentistry, The University of Sheffield. 
The CALM trial will run from 1st September 2021 for 4 years.
Flagship institutes
The University's four flagship institutes bring together our key strengths to tackle global issues, turning interdisciplinary and translational research into real-world solutions.