The School of Clinical Dentistry offers elective placements to students in clinical years of their dental course.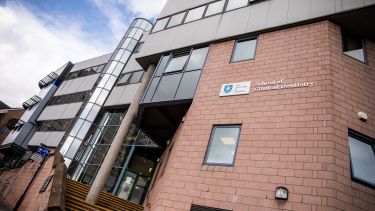 We are not currently offering Electives - however, please continue to check for updates.
Elective placements are offered over a 6 week period from mid-February to April each year. Elective placements of up to 2 weeks are available.
We are able to accept a maximum of two students at any one time. Placements will allow you to shadow our students and staff, generally observing clinical and laboratory sessions. Our elective timetable aims to offer visiting students a wide range of dentistry to observe, including orthodontic, paediatric, oral surgery and restorative clinics.  Individual requests for specific clinics are not accepted and all elective students will have a varied timetable.
How to apply
You must apply at least 3 months prior to your planned visit. Applications can be made here. Please note that we cannot guarantee a placement for all students.
Requirements to submit with your application

Passport - scanned copy for identification purposes.
Letter of Recommendation from the Dean of your Dental School - The document must be on letter head paper, signed and dated.  The letter must confirm you are a student of good-standing and that you are able to communicate fluently in English.
An up-to-date scanned Criminal Records Check - This can be provided by your local police station or your home University can carry out a DBS check.
A brief description of the aims of your elective and why you want to complete your elective at Sheffield Dental School / Charles Clifford Dental Hospital
A valid English Language qualification

What happens next

Your initial application will be processed by the University of Sheffield.  If your application is deemed satisfactory, an offer will be made to you. You then have fifteen working days to accept or decline this offer through the University Admissions Team.

At the point of accepting the offer, you will also be required to pay the administration fee of £200. You have 14 calendar days to pay the administration fee after accepting your offer, if you fail to make payment within 14 days, your offer will be withdrawn.

Payment of the administration fee should be done through the University Online Shop.  You will need to provide a copy of the receipt to the Elective Administrator.

All successful students will be required to complete an Occupational Health questionnaire before undertaking their Elective. After completing the questionnaire, students may be required to attend an Occupational Health appointment on the first day of their clinical attachment, so that full health clearance can be given prior to the start of the attachment.  Students will not be allowed to attend placement until they have received clearance from the Occupational Health team.

Please note we are unable to accept students who are Hepatitis B or C positive or who have tuberculosis. All health records provided must be in English or supported by translations in English.

Providing you meet all of the conditions of your offer, we will then send you a letter of final confirmation detailing appointments for your first day of placement.  This will include:

Induction with the Elective Theme Leader and Administrator
Occupational Health appointment (if applicable)
Issue of your Elective timetable and orientation of the School / hospital
Visas
Once an offer has been made and accepted, it is the responsibility of the overseas applicant to obtain the necessary visa for their elective attachment. Check the UK Border Agency website at: www.gov.uk/study-visit-visa for information about Short Term Study Visa requirements.
Please note that placements cannot be re-arranged if visas are not obtained in time to start on the agreed date.
We recommend that you apply for your visa promptly as approval can take considerable time.
Cancelling a Placement
If you wish to cancel your Dental Elective placement, you will need to withdraw your application via the application system and inform Teresa Kassim at t.kassim@sheffield.ac.uk
If you have already paid for your placement, please read the refund policy below.
Refund Policy
You have 14 calendar days to request a refund of the £200 administration fee from the date you made payment (in accordance with UK distance selling regulations).  For example - if payment was made on the 1st July, you would have until 15th July to request a refund.
After the 14 calendar days, we will only be able to refund your administration fee if you are unable to start your course for one of the following reasons:
Your UK study visa application is refused or rejected (proof will be required)
Please be aware that if a refund is requested and approved, your offer will be withdrawn.
Frequently asked questions
Is there an application fee?

Yes. A fee of £200 is payable once your request for an elective placement has been accepted.

When do I need to apply?

As the elective placements run from mid February to April, applications should be received at least 3 months in advance of these dates to allow sufficient time to process paperwork.

When will I hear about the decision?

We will contact you by email within four weeks of your application. Please do not contact us prior to this date to enquire about your application.

Can I change the date of my elective?

No.  Elective are only offered on specific dates.

Will you organise accommodation for me?

No. Accommodation must be organised by the student, although there are many local hotels and rental properties near the hospital.

Is there a dress code?

Students should dress smartly and comfortably. According to Sheffield Teaching Hospitals NHS Foundation Trust, you should not:

wear any clothing below the elbow
wear open footwear
wear any jewellery below the elbow (a wedding ring is acceptable)

Will I get a timetable?

Yes, a timetable will be sent to you at least one month prior to your visit. This will include details of where to go on your first day.

What if I would like to do a project?

Our elective placements are usually observational. However, if you have a project you would like to do, you should state this on your application form. Depending on the type of project we may be able to organise this for you.
Contact
If you have any queries that cannot be answered by this website, then please don't hesitate to contact us:
Elective Administrator - Teresa Kassim (t.kassim@sheffield.ac.uk)