Partnerships and Regional Engagement
Supporting the University to make a positive difference within the region, the UK and across the world.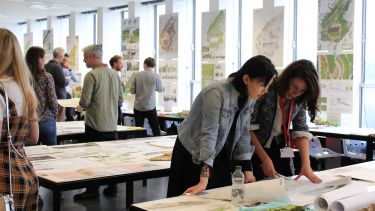 The Partnerships and Regional Engagement (PRE) team plays a central role in the delivery of partnerships, knowledge exchange, regional development and engagement with the city and public.
Contact us
For enquiries about the University of Sheffield's role in the region and collaborative activity, PRE provides a central point of contact across the following key areas.
The Partnerships team oversees the development of university-wide relationships with external partners, providing dedicated account management where appropriate. In addition the team coordinates the University's relationships with the regional Chambers of Commerce and the CBI. 
The Knowledge Exchange team facilitates the transfer of knowledge between the University and external partners and manages delivery of funding to support partnership activity.
The Entrepreneurship team promotes a culture of excellence in innovation and entrepreneurship, offering the tools and environment for recent graduates, staff and students to innovate and build on the existing culture of entrepreneurship across the University.
The Regional Engagement team ensures that the University's research, innovation and education activities result in positive social, cultural, sustainable and economic development across the region. In partnership with stakeholders, the team achieves these ambitions through the delivery of the Made Together programme.
For enquiries regarding the Made Together programme, email madetogether@sheffield.ac.uk
A dedicated City and Culture team works alongside the creative and cultural industries to co-create projects and activities which add to the region's vibrancy, from festivals and exhibitions to green space and regeneration initiatives. The Public Engagement team also delivers a year-round programme of events, exhibitions and activities, in the city and online, to engage the public with the University's world-class research.
Public Engagement at the University of Sheffield
The Communications team provides support across all areas of the University's partnerships and regional engagement activity to showcase the impact of our activities and works closely with the University's media team to promote regional stories.
Rachel Latham (r.latham@sheffield.ac.uk), Communications Manager.
A world top-100 university
We're a world top-100 university renowned for the excellence, impact and distinctiveness of our research-led learning and teaching.