Digital Humanities Congress 2022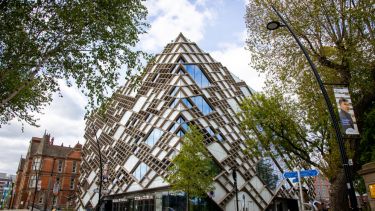 ---
Description
The University of Sheffield's Digital Humanities Institute is delighted to announce that its three-day conference will be held in Sheffield during 8th-10th September.
This will be a physical conference unless prevented by the Covid-19 situation.
The Digital Humanities Congress is a conference held in Sheffield every two years. Its purpose is to promote the sharing of knowledge, ideas and techniques within the digital humanities.
Digital humanities is understood by Sheffield to mean the use of technology within arts, heritage and humanities research as both a method of inquiry and a means of dissemination. As such, proposals related to all disciplines within the arts, humanities and heritage domains are welcome.
The conference will take place at the University's residential conference facility, The Edge.
Keynote Speakers
Conference Topics
The conference will present a programme of talks over three days which focus on:
New knowledge and insights within areas of humanities research which have arisen from the use of digital applications, techniques or methodologies.
Case studies, best practice and evolving trends concerning the development of research resources, tools, frameworks and environments within the humanities, such as digital editions, mobile applications, virtual worlds, surface computing, web services and GIS
Technologies and techniques which bring value to humanities research, such as data mining, crowd-sourcing, linked data, text encoding, digitisation, ontology building, sentiment analysis, augmented reality, 3D visualisation and virtual worlds.
Standards, best practice and case studies for data creation, data collection, development methodologies, usability testing, preservation, sustainability and accessibility.
Issues and emerging trends within the technology and the information environment which do or might impact on humanities research. This might concern new technology, social trends, infrastructure, policy, funding, assessing value or pedagogy.
The full programme will be made available shortly.
Registration
Registration will open in Spring 2022.
Please note that registration fees will be fully reimbursed if the Covid-19 situation in September 2022 prevents this from continuing as a physical conference.
Speaker rate: £152
Delegate rate: £202
Student rate: £152
A range of accommodation is available nearby at differing prices. For further information, please check this website when registration opens. Please also check the cancellation terms when booking accommodation.
Enquiries should be sent to: dhi-conference@sheffield.ac.uk
Publication
All contributors will be invited to submit their paper for publication in the Digital Humanities Institute's online journal, Studies in the Digital Humanities.
Some of the papers presented at the Digital Humanities Congress are available at https://www.dhi.ac.uk/openbook/series/studies-in-the-digital-humanities
Digital Humanities Institute projects and research
The DHI collaborates with a wide range of academic and cultural organisations on funded projects in the Arts and Humanities.  
Events at the University
Browse upcoming public lectures, exhibitions, family events, concerts, shows and festivals across the University.