Both of our Masters programmes make use of the expertise of the world-leading Digital Humanities Institute (DHI) and expertise from across the Faculty of Arts and Humanities.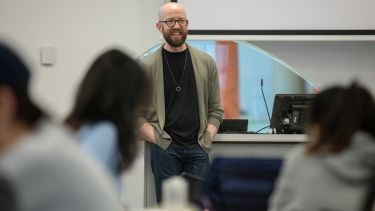 The DHI has over 25 years of expertise and an international reputation in the domain of cultural data (digital humanities). The DHI's practice-based expertise will contribute an important component of the skills, knowledge, and employability related aspects of the programmes. Students will have access to the DHI's extensive portfolio of projects, data, clients, and industry partners and benefit from the interdisciplinary learning environment represented by the DHI's work within the Faculty and internationally, as well as cognate cross-faculty initiatives related to digital methods such as the Sheffield Institute for Language Analytics (SILAS). The Faculty of Arts and Humanities has strengths in languages and cultures, philosophy and ethics, linguistic, musical, historical, and archaeological disciplines and methods.
---
Learning and teaching resources
Located within the Faculty of Arts and Humanities, the Digital Humanities Institute benefits from access to world-leading expertise within the Faculty's Departments and Schools.
You will have access to state-of-the-art study spaces, scholarship and online resources via the University Library, as well as major research databases and datasets published by ProQuest, Gale Cengage and others (for example, every edition of the magazine Vogue from 1891).
The DHI will provide you with access to tools and data for digitisation, digital editing, data mining and data visualisation (you can use your own data as well), and if you want to be creative you will have access to digital media production suites and equipment.
Digital Humanities Institute projects and research
The DHI collaborates with a wide range of academic and cultural organisations on funded projects in the Arts and Humanities.  
Weekly online events
Attend an online event when it suits you, all year round, as an alternative to an open day.
Every Wednesday, Sheffield Live sessions cover different aspects of University life. You can also meet your department and learn more about studying your subject.