Dr Gemma Gibson
Department for Lifelong Learning
University Tutor: Foundation Programme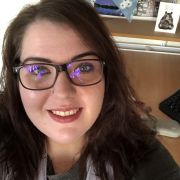 Profile

I received my PhD in Women's Studies from the University of York in 2019. My thesis  focused on the contemporary body positivity movement and the 'acceptable' fat woman's body. Prior to my PhD I completed my MA which was also in Women's Studies (2014) and my BA in English at the University of Winchester (2013).

I have been teaching sociology at various levels since 2015 when I began as a graduate teaching assistant at the Department for Sociology at the University of York. Since then I have designed courses for the University of York's Centre for Lifelong Learning and taught A Level sociology at York College.

I am passionate about making education accessible for everyone and make sure to centre this in all of my work. In 2016 I founded an open-access academic journal with the Centre for Women's Studies titled Cultivate. We looked to make much of the fantastic work taking place in academia more accessible (in more ways than one) to the wider public.

When I'm not teaching or researching I'm usually ploughing away at my annual book challenge or trying to keep my two cats off my kitchen counters (let me know if you have any tips)!
Research interests

My research interests largely fall within the area of fat studies. I am interested in how society negotiates fatness and how this can impact individuals, policy and activism (and yes, my work is often autobiographic). Currently I am publishing work on how the fat body is gendered in a very specific way and the 'Health at Every Size' movement.

I am also interested in contemporary feminism and the way it interacts with the media. For the most part though, I am an interdisciplinary researcher interested in all things gender, body and qualitative method.