Maria Petrillo
PhD Student and Graduate Teaching Assistant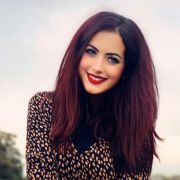 MPetrillo1@sheffield.ac.uk
9 Mappin Street
Full contact details
Maria Petrillo
Department of Economics
9 Mappin Street
Sheffield
S1 4DT

Profile

Maria is a PhD candidate at the University of Sheffield and the Centre of Vocational Education Research (CVER), London School of Economics and Political Science. She holds a BSc and MSc in Economics from the Second University of Naples and and MSc in Economics and Public Policy from the University of York. Maria is an Associate Fellow of the Higher Education Academy (AFHEA) and an ONS Accredited Researcher. 
Research interests

Maria's research lies in the areas of Economics of Education, Gender Economics and Labour Economics, with a current main focus on pay gaps in the labour market. By using applied econometrics methods, she strives to understand how educational achievements and labour market characteristics may impact inequalities, with particular reference to gender and social background inequalities. 
Research group

Supervisors: 
Grants

2021 Research England Studentships.
2021 Linacre- project-evaluation.
2018 PhD Fellowship awarded by the Centre of Vocational Research (CVER), London School of Economics (LSE).
Teaching activities

Graduate teaching assistant - Department of Economics, University of Sheffield

Delivered tutorials and computer demonstration sessions in:

Statistical Methods for Economics
Micro-econometrics     

Associate lecturer - Sheffield Hallam University

Lectured and led seminars in:

Introduction to Micro-economics
Intermediate Micro-economics 
Dissertation (postgraduate level)