On this page you can find out about the modules on our iPGCE course.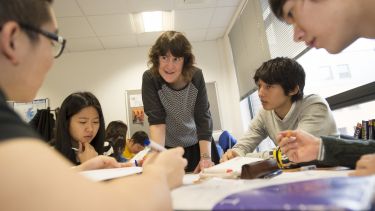 Education, Teaching and Learning
This module will provide you with a solid grounding in the general principles of pedagogy, from a range of different theoretical perspectives, and will explore key topics such as aspects of teaching, planning, assessment, policy, classroom management, special educational needs, learner motivation and learner autonomy.
Through guided reading, structured discussions and the use of other online materials, you will explore educational practice and issues particularly related to both your context and your teaching subject, comparing and contrasting your own experiences with those of other course participants and the literature, leading to critical reflection on yourself as an educational practitioner, and, ultimately, to the development of new educational practice.
Practice-based Inquiry
This module provides you with the opportunity to devise and carry out a small scale research study on a topic relevant to your own practice.
Supported by guided readings and online discussions surrounding research methods, methodology, ethics and the evaluation and writing up of research data, you will be able to reflect on your practice through the process of original research, culminating in a research report. The module gives you the opportunity to explore opportunities for change in your own context, typically at a classroom or institutional level, enabling you to base innovation on reading, research, and reflection.
The content of our courses is reviewed annually to make sure it is up-to-date and relevant. Individual modules are occasionally updated or withdrawn. This is in response to discoveries through our world-leading research, funding changes, professional accreditation requirements, student or employer feedback, outcomes of reviews, and variations in staff or student numbers. In the event of any change we'll consult and inform students in good time and take reasonable steps to minimise disruption.
Information last updated: 12 February 2020
---
A world top-100 university
We're a world top-100 university renowned for the excellence, impact and distinctiveness of our research-led learning and teaching.