Celebrating outstanding staff and students at the Academic Awards 2019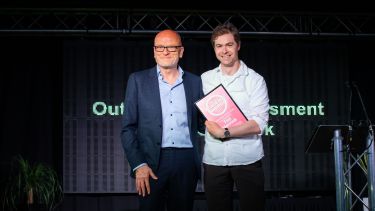 It is a great thrill, therefore, to have two members of staff from The School of Education shortlisted for the awards.
Sabine Little was shortlisted for best PG Supervisor and Tim Herrick in the Outstanding Assessment and Feedback category. Being shortlisted in itself is a fantastic achievement, given the total of 546 nominations, but greater still was that Tim was successful in receiving the award for his category.
The night got even better for Tim as introduced for the first time at this year's event, was a prestigious award - presented by the University's President and Vice Chancellor Koen Lambert - recognising the overall Outstanding Contributions to Learning and Teaching by a university staff member. Tim was presented with this prestigious award alongside the award for Outstanding Assessment and Feedback.
Reflecting on his achievements Tim said: "I feel very humbled to be nominated for the Students' Union awards, and enormously proud to be selected from the more than 500 nominations. To win the Assessment and Feedback award was brilliant; it's great that the students I work with were given a chance to share and celebrate some of what they found useful."
---
Winning the overall award was an amazing surprise and an honour to have been selected by the student and expert panel. A lot of what I do is closely aligned with the ethos of the School of Education - treating students as partners in their learning, valuing their individual development as much as their grade attainment, and seeing assessment as a crucial part of the learning process. These awards are as much for the School as they are for me.

Tim Herrick

Senior Teacher, School of Education
---
Deputy Vice-President for Education, Professor Brendan Stone, was part of the panel of students and staff who chose the final shortlist at this year's ceremony. He commented: "These awards showcase creativity and innovation in teaching, dedication to student welfare and the promotion of the student voice in the learning journey, in addition to celebrating outstanding contributions to education more broadly.
"To be recognised through the Academic Awards is a thrilling testament to the hard work of staff and students, and our award-winners subsequently have opportunities to share their excellent practice with the community."
"Congratulations to the 2019 award-winners on all their achievements, and we look forward to benefiting from their successes in the future."
A world top-100 university
We're a world top-100 university renowned for the excellence, impact and distinctiveness of our research-led learning and teaching.