The School of Education receives high overall satisfaction rate in the latest National Student Survey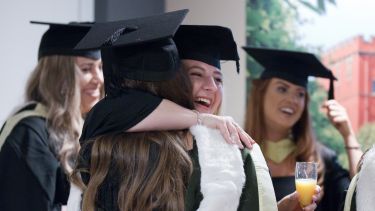 The School of Education achieved an Overall Student Satisfaction rate of 90%

Excellent for teaching and learning opportunities

Very strong performance in the Student Voice category
Students in the School of Education recognise that we value their feedback enormously and it's no surprise that this year we received the highest response rate to the survey in the whole of the University. This is great as it ensures that the feedback is truly representative of the whole 2019 cohort.
We're thrilled that feedback for 2019 is consistently strong across the board, with an overall satisfaction score of 90%, which is above Russell Group ratings for Education, and sector-wide ratings for Education. Indeed, on the overall satisfaction, we are fourth in the Russell Group.
---
We are proud that our students have ranked us so highly for satisfaction in their learning and teaching and this is a testament to the hard work of our dedicated and inspirational staff.

Professor Koen Lamberts

Vice-Chancellor and President of the University of Sheffield
---
Within the more specific categories, there is a 91% positive responses to the set of questions about 'The teaching on my course', and also really strong responses in the category of 'Learning opportunities', including 95% agreement with the statement 'My course has provided me with opportunities to explore ideas or concepts in depth' – which may be a reflection of the strength of the more tailored elements like the placement, research project, and dissertation. 
In terms of 'Academic support', we do solidly well, at an overall average of 85% agreement. We also do very well in the 'Organisation and management' category, with the satisfaction of 85%.  This includes a stand-out mark of 90% agreement with the statement "The course is well organised and running smoothly". Similarly, we continue to do well in the "Learning resources" category, suggesting that our use of resource lists, different teaching spaces, and specialist software continues to be effective.

The 'Student voice' section is a particular strong point, 95% of students are in agreement with the statement "Staff value students' views and opinions about the course", perhaps due to a combination of the responsiveness of tutors to feedback, the personal tutoring system, level tutors as additional points of contact, and a robust student-staff committee.
Vice-Chancellor and President of the University of Sheffield, Professor Koen Lamberts, said:  "Listening to our students' opinions of their course and overall time at University is crucial for us and helps inform the work we do. We are committed to using this information to ensure we continue to provide an exceptional student experience, delivering some of the best learning and teaching in the country."
A world top-100 university
We're a world top-100 university renowned for the excellence, impact and distinctiveness of our research-led learning and teaching.