Dr Becky Parry
School of Education
Lecturer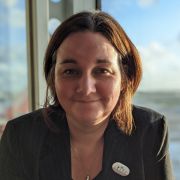 Profile

Becky began her career as a teacher of English, Drama and Media Studies in Secondary schools, before running a film education programme and children's film festival at the Showroom cinema in Sheffield. After many years of working in the creative education sector Becky commenced her academic career and now teaches modules on the BA and MA Education and co-leads the EdD programme.

Becky is currently developing a new MA course focused on digital culture and literacies which will commence in 2020 and supervises doctoral students in this area.
Research interests

Becky's research is focused on children's media cultures in terms of what they play, read, watch and participate in and what they create and share. Becky is especially interested in developing pedagogies which support children's creativity and criticality in relation to digital media. Her doctoral research focused particularly on children's film and included the use of participatory and visual research methods.

Recent projects include:

Girls Into Steam: A case study of gender role models in a Cbeebies science animation. Funded by Midlands Three Cities Postgraduate Research Student Placement Programme
Virtually Drama: A study conducted in partnership with Professors Cathy Burnett and Guy Merchant at Sheffield Hallam University and colleagues from CHOL's Imaginary Communities project, where primary aged children create their own imaginative space to play and tell stories in.
Storysmash: A partnership project involving Nottingham Libraries, The National Videogame Arcade and UNESCO City of Literature. Funded by the Arts Council England, the project provided opportunities for young people to create game / stories using text based games.
A further film education and writing project, led by BFI Education and a consortium of schools in Lincolnshire, focusing on the ways in which film analysis and production activity can support wider meaning making practices, including writing. 
Research and Evaluation for the Specialist Leaders in Cultural Learning and Creativity for Cape UK
Pockets of Excellence: An audit of Film Education in Yorkshire and Humberside' funded by Cape UK
Montage Mash Up and Machinima': funded by First Light to make and research young people's filmmaking in Sheffield, London and Cambridge. 
Publications

Books

Edited books

Journal articles

Chapters

Book reviews
Research group

#supervisionaries - stories of brilliant doctoral supervision

From the moment Becky became my supervisor I felt supported, challenged and valued. She answered my queries, acknowledged my stresses and actively listened. Becky is inspirational and an asset to the University of Sheffield.
Professional activities

Member of the United Kingdom Literacy Association
Member of the UKLA/Wiley Blackwell Research in Literacy Education Award Committee
Member of the Arts and Humanities Research Council Review College
Participant in COST Action IS1410, 'The Digital Literacy and Multimodal Practices of Young Children' (DigiLitEY)
Regular reviewer for Palgrave Macmillan, Bloomsbury and Routledge and for journals including Literacy, Children and Media and Media Education Research and Film Education.