Dr Caroline Sarojini Hart
BA (Hons), PGCE, MEd, MPhil, PhD
Lecturer in Education
Senior Fellow of the Higher Education Academy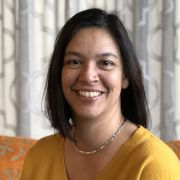 Research interests

Caroline Hart is a member of the Centre for the Study of Higher Education, in the School of Education, and she is also a member of the Centre for the Study of Childhood and Youth within the University of Sheffield. Caroline Hart has a range of active research interests related to the roles of education and health in human development. She is an inter-disciplinary researcher and her conceptual work has been principally concerned with notions of aspiration, capabilities, well-being and social justice.

Caroline's recent empirical work has focused on UK higher education policies, educational practices in schools and post-16 education, centred around the nature of transition and holistic notions of development. Theoretically, Caroline's research builds on Amartya Sen's capability approach, Social Quality Theory and the sociological thinking of Pierre Bourdieu. Caroline has recently been leading a group of international colleagues to complete a new edited volume on agency and participation in childhood and youth. This work reflects Caroline's concern with thinking about the promotion of human development both inside and beyond formal educational institutions.

Current research

Child Poverty and Human Development

Caroline is an international partner on a 3-year research project led by the University of Salzburg to examine social justice and child poverty. The project is funded by the FWF - Austrian Science Fund and will run from April 1, 2014 until March 31, 2017.

The Social Contexts of Food Practices in Primary Schools

Caroline is principal investigator on this project researching school food policy and practices in primary schools in the context of the national School Food Plan (2013) and wider education initiatives to promote educational engagement, attainment and child health. Visit the website for details of the national context for this project.
Publications

Books

Edited books

Journal articles

Book reviews
Teaching activities

Caroline is a qualified teacher and worked in secondary schools in the UK, Malaysia and Italy before moving into higher education in the UK. She has extensive experience of research supervision at undergraduate and postgraduate level and previous posts include being programme coordinator for the Masters in Politics, Development and Democratic Education at the University of Cambridge.

Caroline currently teaches and supervises students on the EdD and MA programmes in the School of Education. She specialises in higher education and has a key role in delivering the higher education strand of the EdD programme.
Professional activities

Caroline has worked as an international consultant to the UNDP on education, youth and development, being involved recently in work related to the 2014 Human Development Report for Panama (see the executive summary of the final report, 'The Future is Now: Early Childhood, Youth and the Formation of Skills for Life'). She has also recently advised on research evaluation work for Crianca Esperanca in Brazil. Caroline regularly reviews book proposals and articles for peer-reviewed journals including the Cambridge Journal of Education, International Journal of Educational Development and the International Journal of the Institute of Health Promotion and Education. She holds the following professional memberships and roles:

Affiliated Lecturer, Faculty of Education, University of Cambridge
Member of the Human Development and Capability Association (HDCA)
Council Member of the Institute of Health Promotion and Education
Member of the Sheffield Food Executive Group
Member of the British Sociological Association (BSA)
Member of the Society for Studies in Higher Education (SRHE)
Member of the Philosophy of Education Society of Great Britain (PESGB)
Co-director of the HDCA Children and Youth Thematic Group
Co-Director of the HDCA Education Thematic Group
Member of the University of Cambridge's Centre for Science and Policy policy fellows' network
Member of the Public Health Hub