Dr Nadena Doharty SFHEA
BA (Hons), PGCE FE, MA, PhD
Deputy MA Programme Director
Lecturer in Education, Culture and Childhood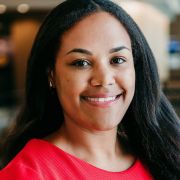 Research interests

Dr Nadena Doharty is a sociologist of education working in the School of Education at the University of Sheffield. Nadena read her undergraduate degree in Sociology and Politics and a postgraduate degree in International Relations at Goldsmith's College, University of London.

After a PGCE specialising in Sociology and Politics, Nadena earned her PhD at the University of Keele. Nadena's areas of research include Sociology of Education, Black History, inequalities in education, racialised identities in schooling, Critical Race Theories, and critical/anti-racist pedagogies. 
Publications

Journal articles

Chapters

Book reviews

Other
Teaching activities

Nadena is contributing to the BA and MA programmes, as well as to the EdD programme, and doctoral supervision. Nadena also has the responsibility of Deputy Programme Director of the MA.