Information on how to apply for the Postgraduate Diploma in Education.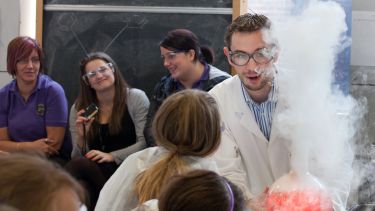 How to apply
The way to apply for postgraduate teacher training in England has changed. You can now use Apply for teacher training, a new GOV.UK service. 
Apply for teacher training is easy to use and gives clear guidance to help potential teachers make strong applications, see their Tips on applying for teacher training.
To learn more about the new service and to get help with your application, visit Get into Teaching. 
If you already hold a teaching qualification from an EU country, Iceland, Liechtenstein, Norway, Switzerland, Australia, New Zealand, Canada or the USA you are advised to contact the DfE to find out if you are eligible to receive QTS under the conditions described in this document.  Applicants who are eligible under the conditions described above should contact the DfE for  further guidance - qts.enquiries@education.gov.uk
Please note that if you are successful in your application to the DfE and receive QTS you will not be eligible to receive the teacher training bursary if you embark on a PGDE course.
Writing your application
Your application should make clear how the content of your degree or other education is directly relevant to the course for which you are applying and how your other experiences, activities and personal qualities are relevant to training for teaching.
It is desirable for you to have spent time in a secondary school in the United Kingdom either working, volunteering or as a visitor and to have spent some time within the department of your subject area in particular.
The Get into Teaching website contains some useful advice and tips on completing your application.
---
Interviews
If you are invited for an interview, you will normally be seen by a university tutor responsible for the course you wish to study and also by a teacher from a Partnership school.
Interviews may involve a visit to a local school. You will be asked to bring with you your passport or UK Driving licence as evidence of your identity. 
Successful candidates will be expected to complete a Work Health Assessment, Safeguarding training and obtain an enhanced disclosure from the Disclosure and Barring Service.
More specific information on our selection criteria and interview process is available on the Department for Education's find a postgraduate teacher training service.
A world top-100 university
We're a world top-100 university renowned for the excellence, impact and distinctiveness of our research-led learning and teaching.