The first Electronic and Electrical Engineering Taster Day was a success!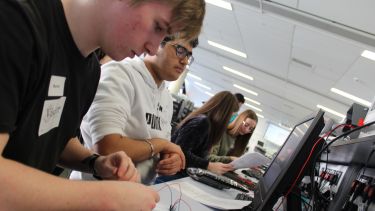 The Department of Electronic and Electrical Engineering held our first Taster Day in January and offered 23 year 12 students from across the UK an opportunity to experience life at University.
Led by Dr Gavin Williams and Professor John David from EEE the students enjoyed a mini lecture on solar panels, they built a semiconductor device in the Clean Room, completed a circuit in the Electronics and Control Lab and programmed a robot to follow a light signal.  They also had an opportunity to speak to EEE Alumnus Matt Watson who created an innovative autonomous multi-directional robot during his PhD with us. Click here to watch Matt's video.
Helen Herold, Widening Participation Officer for the Faculty of Engineering, who organised the Taster Day explains the benefits of events such as these.
"Each taster day is focused on a different subject area and these days aim to complement the existing open day offer by providing the opportunity for students to explore a subject they're interested in, in more depth which we hope in turn helps students to make informed choices about their future studies.
Recently we ran out first Engineering Taster Day with the Electrical and Electronics department where we saw 23 students attend from across the UK. These students were able to take part in three interactive activities held in The Diamond in addition to talks led by academic staff and a campus tour. On reflection of the day one participant said 'I wasn't really sure what to expect and came in reasonably open minded, and the fact that I enjoyed it and learned more about EEE resulted in a great day'."
Top 10 in the UK
We're in the top 10 UK Electronic and Electrical Engineering Departments (QS World University Rankings 2021).
Explore the University
Discover what sets Sheffield apart at our next on-campus open day.