Professor Tan Begins His Appointment As The New Head of Department for EEE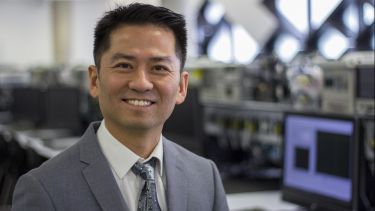 The education and training I received from this department have provided the pathway to my successful academic career. I am extremely proud to have been appointed as Head of the Department for Electronic and Electrical Engineering at the University of Sheffield.
The Department has been at the forefront of engineering since 1917. Over the last few decades, we have built our reputation as world leaders in the areas of electromagnetics, semiconductors and communications. We have tremendous expertise in designing electrical machines.
For example, we work with Siemens-Gamesa, to improve the energy generation from large scale wind turbines, and Rolls-Royce to develop electrical machines and power electronics to meet their future market demands. These are two of the five industry-funded research centres in the Department. Our academic experts are working with industry leaders to advance electric transportation from cars, trains to aeroplanes that will significantly reduce emissions.
For the last 40 years, we have been home to the largest semiconductor research facilities in the UK. Our state of the art semiconductor facilities allows us to assemble with atoms to achieve remarkable electronic and optical properties. We can grow atoms layer by layer to create a design for the next generation of electronic and optical devices.
---
The education and training I received from this department have provided the pathway to my successful academic career. 

Professor Chee Hing Tan

Head of Department
---
Our Communications research are world leaders in wireless and RF communication. We make antennas more efficient at transmitting signals and optimise signal propagation in challenging and complex environments.
Being a research-led teaching department, we are able to integrate the latest ideas in engineering into our teaching programmes. Our students receive a balanced offering of practical lab sessions, design projects, theoretical lectures and tutorials. We also incorporate essential career-advancing soft skills in our programme.
These include teamwork and communication through interdisciplinary group projects (working with engineering students across the faculty) and Sheffield Industrial Project (SHIPs), career assessment training (with our industrial partners), CV writing and public engagement (through presentation and videos).
My vision for this department is for us to be a top EEE department within the UK and in the world. We will continue to strengthen the electromagnetic research that is driving the breakthroughs in electrical machines to meet future challenges in energy and transport.
Our recent investment in new semiconductor facilities will play pivotal roles in future pushing the boundaries of electronic and optical devices. Likewise, we are expanding our capabilities into the millimetre wave to develop future communication systems. There are exciting opportunities ahead in EEE and I look forward to being part of them.
Top 10 in the UK
We're in the top 10 UK Electronic and Electrical Engineering Departments (QS World University Rankings 2021).