Remembering Professor Peter Houston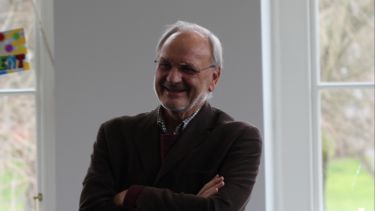 Professor Peter Houston joined the Department in 1978 following a three year stint in industry after which he decided to pursue an academic career.  He chose Sheffield due to their very good reputation in semiconductors  - his field of research - and because it was the only University with advanced facilities to produce semiconductor crystals and turn them into electronic devices.
Peter stayed with the department as a member of the Semiconductor Materials and Devices research group until his retirement in January 2020.  In that time he was appointed Director of the National Epitaxy Facility which remains a world class producer of semiconductor devices and epitaxial wafers.  He was also Head of Department for seven years which he saw as a highlight of his career, albeit a tough one.  You can read the full interview he gave on his retirement here - the featured photograph is from his retirement lunch.
Professor Chee Hing Tan, the current Head of Department, reflects on his friendship with Peter.  'Personally, I will always be grateful to Peter for hiring me as a post doctoral researcher in 2001, which obviously started my career in Sheffield. I will always remember Peter as a Supervisor, a Head of Department and also as a friend too."
Professor Jon Heffernan, Director of the National Epitaxy Facility shares his memories of Peter. "Peter was such an enormous help to me personally when I took over Directorship of the Facility in 2013. You could not ask for a better colleague - he was full of insight, always happy to meet and discuss any issue, was always in good cheer no matter how thorny the issues to deal with, and he had enormous dedication to the success of the Facility and more broadly of course to the Department and University.
I know he continued to value his time in supporting younger colleagues in the department after his semi-retirement, and indeed he continued to support me strongly during this time.
From my chats with him, I also know  that he spent valuable time with his family in the last few years and was especially delighted to enjoy the company of his young grandchildren. Something for us to remember in these sad times."
Professor Zi-Qiang Zhu, Head of the Electrical Machines and Drives  (EMD) research group says "The whole EMD Group and I are shocked and saddened by Peter's passing  - we will definitely miss him.  He was a real gentleman and he was always there to help whenever you needed him."
Our thoughts are with Peter's family and friends in this sad time but he will always be remembered fondly as part of the Department of Electronic and Electrical Engineering family and in our memories.