University of Sheffield's English Language Teaching Centre Paves The Way For Rethinking Language Education In A Research Partnership With Immerse VR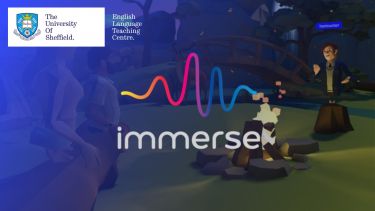 The University of Sheffield continues to explore virtual reality (VR) through a new partnership with Immerse VR, a synchronous English language teaching platform.
This new research collaboration investigates how using immersive VR can benefit academic English language development for remote learners located in Japan. Immersive virtual English learning may provide a powerful alternative for language learners, which is what David Read, director of Technology Enhanced learning at the English language Teaching Centre (ELTC), and his colleagues have begun to explore using the Immerse VR platform.
With this new collaboration, the ELTC at the University of Sheffield is exploring how using immersive VR can benefit academic English language development for remote learners located in Japan.
The pandemic year has had an outsized impact on English language learners, who want to develop English for academic and professional purposes to advance their degrees and launch future careers. International lockdowns, a slow vaccine rollout, and patchwork quarantine policies have left many language learners with few options for location-based immersive learning—where an English student lives and learns in an English-speaking country to improve their language skills more rapidly. Location based immersive study can significantly improve English skills and reduce the amount of time it takes to reach language proficiency.3
Immerse VR launched into the English language landscape in October 2020 making virtual reality language teaching accessible to any educator, without the need to develop complex programming or modeling skills.4 The Immerse VR application uses a combination of desktop VR for teachers with immersive virtual reality for students, who connect through the Oculus Quest 2 VR headset device. Using the Quest 2 (one of the most popular and affordable untethered VR headsets) makes learning English in virtual reality a fun, engaging, and fully immersive experience. The platform allows students to be fully embodied in virtual locations, designed with a suite of resources and facilitation tools that make language facilitation easy. The use of immersive virtual reality technologies has the potential to significantly improve language acquisition by increasing motivation and reducing foreign language anxiety for learners.5
The team at the ELTC is moving forward, having already concluded the preliminary round of research for the study, where students living in Japan participate in an English for Academic Purpose (EAP) class offered entirely through immersive virtual reality.
David Read, director of Technology Enhanced learning at the English Language Teaching Centre (ELTC) said: "We feel there are tremendous possibilities for the use of Virtual Reality in the teaching and learning experience in both English as a Foreign Language (EFL) and English for Academic Purposes (EAP). It can offer the convenience of online learning while retaining the personal touch of face-to-face teaching; taking the best practices from both important methods of delivery to create a much greater sense of location and immersion."
Quinn Taber, CEO of Immerse VR said: "On behalf of the Immerse team we are honored to work with David Read, who has spent the last ten years exploring emerging technology in the classroom, and the University of Sheffield, a world class learning institution. In particular I am excited for this collaboration to broaden the industry's understanding of what remote learning can look like in our increasingly distributed world." 
The team is currently processing the results from the initial study, concluded in May 2021, with anticipated publication of the results in upcoming publications and presentations in the Autumn of 2021.
---
Contact
For further information and interviews, please contact Chris Jenkin via:
Email: chris.jenkin@sheffield.ac.uk
Notes to editor
Sources
About the University of Sheffield, English Language Teaching Centre
The English Language Teaching Centre (ELTC) is part of The University of Sheffield and one of the largest university language centres in the UK. Much of the centre and many of our courses are accredited by external bodies such as the British Council and BALEAP. The centre is authorised by Cambridge Assessment English as an exam centre and for teaching awards.
With over 100 teachers and 20 administrative and support staff, the ELTC teaches and supports several thousand students a year on a range of general, pre-sessional and in-sessional programmes.
Our staff have experience of teaching international students in a wide range of locations and situations, both in the UK and overseas.
About IMMERSE
Immerse is a US-based EdTech startup building the first synchronous VR English language teaching platform. Immerse is a platform designed to respond to the research informed needs of high-quality language instruction.
Immerse provides a unique platform that allows English language schools to design, develop, and deploy white-label VR learning experiences to learners, no matter where they are located in the world. Immerse allows schools to provide both on-site, hybrid, and distance synchronous VR language learning. Immerse supports institutional success by providing world-class training in educational technology integration to ensure users can deliver powerful language learning lessons that are immersive, human-centric and socially active.
Immerse is here to engage with language educators across the globe to grow our research, improve our learning experiences, and provide greater opportunities for customizing and fine-tuning VR instruction to support the needs of all language students. The future of learning is digital, and we at Immerse are excited to be a part of the digital revolution.
A global reputation
Sheffield is a research university with a global reputation for excellence. We're a member of the Russell Group: one of the 24 leading UK universities for research and teaching.