Asylum Seeker Scholarships - Part Time
Part-time English language course scholarships for asylum seekers offered by the University of Sheffield.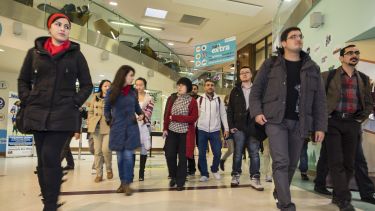 We have two scholarships for our part-time General English courses and two scholarships for our part-time IELTS preparation courses.
What does the scholarship cover?
The scholarships cover the cost of tuition fees and course materials only. The scholarships are available for students who are 18+ and who meet certain criteria.
What criteria do I need to meet?
To be considered for the scholarship you must:
be 18+ years of age and live in Sheffield
have been granted Humanitarian Protection or Limited Leave to Remain in the UK, be a dependant or partner of someone with Humanitarian Protection or Limited Leave to Remain or you or your parent/guardian or partner are an asylum seeker and have submitted a claim within the UK for refugee status and have not yet received a decision from the Home Office on that application
be unable to access mainstream funding, for example student finance or local authority grants
provide all the documentation you have received from the Home Office in relation to your asylum claim.
How to apply
We are currently accepting applications for scholarships for the 2021-22 academic year.
The deadline for submitting your scholarship application is August 31st 2021. We will let you know after that date if you have been offered a scholarship place.
If your application is successful, you will be invited to take a placement test where we can check your level of English and recommend the right course for you. The courses start on Monday October 4th 2021.
To apply for a scholarship there are two steps.
Step 1: Please complete and submit our application form:
Step 2: After completing the application form, please send scanned copies of the following documents by email to eltc.support@sheffield.ac.uk
Photo page in your passport and visa page or BRP
Any asylum or Home Office documentation
Any proof of English or proof of English language study, (ideally an IELTS certificate)
Important Information
If you have exhausted all appeal rights and have neither submitted a fresh claim for asylum nor an application to remain in the UK under another immigration category, you will not be able to study at the University of Sheffield. 
If your status changes throughout the application process or at any point prior to or during your studies, you must notify the University immediately.
If you have or receive a 'no study' immigration bail condition or a 'restricted study' condition that prohibits study at the University of Sheffield, you will not be permitted to study at the University.
---
About our Part-time Evening Courses
Our part-time General English Courses take place on Tuesdays and Thursdays from 5:30pm to 7:30pm.
Our part-time IELTS Preparation Course takes place on Mondays and Wednesdays from 5:30pm to 7:30pm.
Students on both courses are required to attend both sessions each week. We are planning to offer the classes face-to-face next term following Government guidelines and University guidance, so students will need to travel to the ELTC for their classes
For more information about the classes, please visit our Part-time courses webpage.
What if I still have questions?
If you have any questions, please email eltc.support@sheffield.ac.uk and we will be happy to help you.
A world top-100 university
We're a world top-100 university renowned for the excellence, impact and distinctiveness of our research-led learning and teaching.