Boost your grammar and writing skills with this short 10 week course in just 2 hours per week. Available as a fully online or in-person face to face course.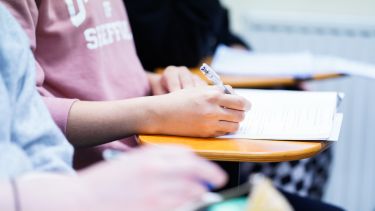 Level: CEFR B2+
Cost: £225
When: February to May 2021

Mondays 5.30 to 7.30pm (In-person Course)
Wednesday 5.30 to 6.30pm (Online Course)

Hours: 2 hours a week for 10 weeks (20 hours)
Apply: Apply Now Here
Covid-19 - Term 2 (February to May 2021) In-person Course Format Update
The in-person version of this course is taught face-to-face in small groups which are compliant with UK Government guidelines on social distancing and public health. Students on the in-person course should be aware that the classes might need to be moved to online delivery if Government guidance changes during the course. We will keep applicants and students informed of any changes to the format of the course (if required) after you apply.
---
What is it?
Grammar and Writing Plus is a short course that covers complex grammar patterns at CEFR B2 and above. The grammar covered will allow you to improve your writing skills for different genres.
The course can be taken either in person as part of a small class in compliance with social distancing guidelines, or entirely online with additional guided learning material provided to complement the live lessons.
Who is it for?
This course is for you if you would like to improve your grammatical accuracy and range when writing in English. You can take Grammar and Writing Plus together with one of our General English courses or as a short course by itself.
You can also take Grammar and Writing Plus along with our other booster course - Pronunciation and Speaking Plus
---
Course details
Grammar and Writing Plus is offered as both an in-person course and a fully online course which can be studied from anywhere in the world. Click on the headings below to view further details about each study option:
In-person course

Grammar and Writing Plus You will be given self-study activities to do at home to complement the learning that takes place in class.

The course will cover key grammatical structures that are used in different writing genres such as letters, emails, reports and persuasive writing. You will be required to complete writing tasks at home and you will receive detailed feedback from your tutor.

Classes will take place at the English Language Teaching Centre in Sheffield in small groups in compliance with social distancing guidance.

A range of materials and technologies will be used during the course. Students will have the opportunity to use online tools to improve their written communication.

Online course

This course focuses on writing skills for different genres, such as letters, emails, reports and persuasive writing. It also explores the grammar commonly used in such genres.

This online course will provide you with 1 hour of live online tuition in a small group and 1 hour of guided learning material each week. The guided learning material will be linked to the topics covered in the live lesson and you will be expected to complete it independently before the next scheduled lesson.

To study online with us, you will need:

Suitable electronic device (eg. tablet or laptop)
Broadband internet connection (minimum recommended speed: 5mpbs)
Dedicate a minimum of 1 hour a week to complete independent online tasks and attend 1 hour of online face-to-face instruction
Participate in online discussion forums as frequently and actively as possible to gain maximum benefit from the course
Course dates and fees
In-person course
Day: Monday
Time: 5:30pm - 7:30pm
Dates: February 8th 2021 to May 7th 2021
Fees: £225
Online course
Day: Wednesday
Time: 5:30pm - 6:30pm (plus 1 hour of guided learning per week)
Dates: February 10th 2021 to May 7th 2021
Fees: £225
How to apply
To apply for Grammar and Writing Plus please complete our online application form:
Application deadline: January 24th 2021
After you have filled in the application form we will invite you to take an online placement test. This is just to check that the level of this course is right for you. We will send you more information once you have applied.
A world top-100 university
We're a world top-100 university renowned for the excellence, impact and distinctiveness of our research-led learning and teaching.