Part-time IELTS Writing Preparation Course (online)
Improve your IELTS Writing component scores with this part-time fully online course.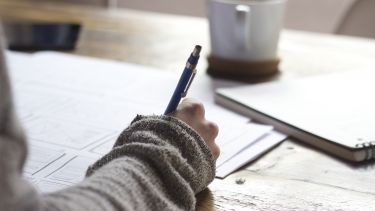 Our IELTS Writing Preparation course is for anyone wanting to improve their Writing skills for IELTS with a fully online course.
Level: CEFR B1 - C1
Cost: £259 for courses starting in 2022-23 - includes all tuition and materials. Exam entry fee not included.
Dates: Various dates - see 'Course Dates' below
Hours: 8 x 90 minute lessons, 2 tutorials and 8 hours of guided learning over 4 weeks
Apply: Apply Now
About our IELTS Writing preparation course
Who is this course for?

This fully-online course is for students who need to improve their writing component score of the IELTS exam and can be taken from anywhere around the globe. You will probably have taken an IELTS test before. This short course will help you to improve your writing skills in Task 1 and Task 2 of the IELTS writing test.

You should not be more than half an IELTS band (0.5) away from your target score. The course is not suitable for students wanting to improve their IELTS writing grade by more than half a band (0.5) or who need significant language improvement to achieve a specific IELTS band score.

What does the course cover?

During the course you will: 

Cover all task types for the writing part of the exam and be given strategies, techniques and advice on how to achieve the score you need
Complete practice writing tests and get individual feedback from your teacher
Increase your grammar and vocabulary range to help you improve your score. 
Have access to specially designed 'Guided Study' tasks that you should complete before every live lesson.
Receive detailed feedback on your assigned writing task practice
Have regular targeted support from your teacher to help you to achieve your learning goals

Can I take my exam at your centre?

Yes, we are an official IELTS and Cambridge test centre, and offer frequent IELTS on Paper and IELTS on Computer examination dates.

IELTS exam fees are not included with the fee for this preparation course.

For more information on booking your IELTS exam and to view upcoming examination dates at our centre, please visit our IELTS webpage:

Course Dates and Example Timetable

October 2022 course - Begins 10 October 2022, finishes 3 November 2022

November 2022 course - Cancelled - sorry for any inconvenience

February 2023 course - Begins 27 February 2023, finishes 24 March 2023

May 2023 course - Begins 15 May 2023, finishes 9 June 2023

The course consists of:

8 live online group lessons with your teacher in a virtual classroom. Each lesson is 90 minutes
8 hours of guided study materials for you to complete before each live group lesson 
2 one-to-one meetings with your teacher to discuss your writing

The live online group lessons will take place each Monday and Thursday during the course. You can choose to attend the live lessons at either 9:30am OR 5:30pm UK time each Monday and Thursday.

Example Timetable
 
Guided Study
Live Sessions
Week 1
Lesson 1 (1 hour)
Lesson 2 (1 hour)
Group Lesson 1 (90 mins)
Group Lesson 2 (90 mins)
Week 2
Lesson 1 (1 hour)
Lesson 2 (1 hour)
Group Lesson 3 (90 mins)
Group Lesson 4 (90 mins)
1 to 1 Tutorial 1 (15 mins)
Week 3
Lesson 1 (1 hour)
Lesson 2 (1 hour)
Group Lesson 5 (90 mins)
Group Lesson 6 (90 mins)
Week 4
Lesson 1 (1 hour)
Lesson 2 (1 hour)
Group Lesson 7 (90 mins)
Group Lesson 8 (90 mins)
1 to 1 Tutorial 2 (15 mins)

Each group lesson will contain a maximum of 8 students.

Tuition Fees

The fees for the course are £259 and this includes tuition and all materials. As part of the course:

You will have access to our especially designed Guided Study material that you will complete before each online lesson. The Guided Study material contains a range of tasks that will help you improve your IELTS Writing skills.
 
You will also have access to a range of supplementary materials carefully chosen by your tutor to help you improve your language and skills.

The IELTS exam entry fee is not included as part of the course tuition fee.

You can book an IELTS exam at our test centre in Sheffield for £179 in 2022 by visiting the link below:
How to apply
To apply for an upcoming course, please complete the application form below:
Apply Now - IELTS Writing Preparation Course (Online)
---
Technical Requirements
The course will be taught over the internet using Google Meet. You will be provided with a link to the virtual classroom on Google Meet in advance of each lesson.
To access the lessons and course content, students will require a desktop or laptop computer with a webcam and microphone, and a broadband internet connection (recommended minimum speed 5mbps). We also recommend using headphones and a separate microphone for better quality audio, however these are not compulsory.
Computer equipment and internet access is not provided as part of the course.
---
Course Tutors
Sally Fryer
Sally is an experienced English Tutor, Exam Trainer and Invigilator for the English Language Teaching Centre. Sally is also a Freelance Examiner and Materials Reviewer for publishers.
 
She has worked with international markets for over 20 years, initially in immigration, working abroad, and travelling extensively,  before teaching in the UK. Sally is also an experienced materials developer and has produced a range of materials that are used on different ELTC programmes. 
 
Sally is a PGCE and Cambridge CELTA qualified teacher and has a Masters in Linguistics with TESOL at the University of Sheffield. 
Ana Biazon Rocha
Ana is the Assistant Director of Studies of the Part-time Evening Classes at the English Language Teaching Centre.
 
She has been working in EFL/ESL for over seventeen years in Brazil and in the UK. Ana is also a Technology Enhanced Learning developer and has created online resources for a range of programmes at the ELTC  including Credit Bearing Modules and In-Sessional Support materials.  
 
Ana has a Masters in Applied Linguistics with TESOL from the University of Sheffield. She is particularly interested in pronunciation development and is currently a blog joint writer and committee member of IATEFL Pronunciation Special Interest Group. 
Information for Under 18s
Our courses are designed for adults. Applicants who are under 18 are subject to a number of restrictions and administrative procedures. 
The standard minimum age for our courses is 18 years. However, we will consider applications from applicants who are under 18 in some circumstances, and subject to satisfactory guardianship arrangements being in place. Please contact us for more information.
For further information on under 18s at the university please visit our "Students under the age of 18" webpage".
A world top-100 university
We're a world top-100 university renowned for the excellence, impact and distinctiveness of our research-led learning and teaching.