OET Reading & Listening Preparation Course
If you're planning on taking the OET test then our 4 week part-time evening class can help you prepare.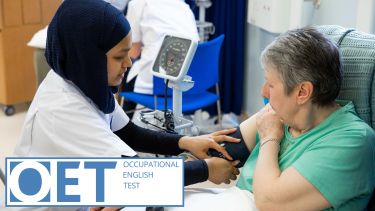 Cost: £275 including all tuition and materials. Exam entry fee not included.
Dates: 2 May to 25 May 2023
Hours: 2 classes a week of 2 hours for 4 weeks (16 hours in total)
Level: CEFR B2
Apply: Apply Now
OET (Occupational English Test) is an international English language test that assesses the language communication skills of healthcare professionals who seek to register and practise in an English-speaking environment.
This OET Reading and Listening preparation course (for the 'Reading and Listening' test components) is for anyone over 18 wanting to improve their exam techniques for these essential skills, as well as their overall test performance.
---
Free Sample Lesson
We're offering a free 90 minute sample lesson for anyone interested in taking our OET Preparation Course.
The free lesson aims to provide you with a better understanding of the content of our preparation course. The lesson will include activities that will help you expand your language for the exam and you will familiarise yourself with some sample exam questions.
The 90 minute sample lesson will run twice, on Thursday 23 March and Thursday 30 March from 5.30 to 7.00pm at the English Language Teaching Centre, 78 Hoyle Street, S3 7LG on both dates. 
To sign up to attend, please click the registration link below:
---
About our Occupational English Test preparation course
Who is this course for?

These classes are suitable for anyone with little or no experience of the OET test or those that want to refresh their exam skills. 

If you have taken the test before you may expect an improvement in your test performance from attending the course however this depends on external factors, like how much English is practised and studied outside the classroom and if you have previously studied for the OET examination.

The classes focus on the test techniques and papers and NOT on general language improvement. For this reason a minimum English level of CEFR B2 (IELTS 5.5) is required to take this course. If you are not sure of your English language level, you can arrange for a placement test with us or visit the British Council Learn English website which allows you to test your level of English.  

What does the course cover?

During the course you will:

Cover the Reading and Listening components of the exam and be given strategies, techniques and advice on how to achieve the score you need
Complete practice tests and get feedback from your teacher
Listen and recognise facts and opinions from different medical conversations and presentations in different health contexts
Read and understand facts and opinions from medical texts 
Increase your grammar and vocabulary range to help you improve your score

Can I take the OET at your centre?

Yes, we are an official OET test centre, and offer regular test dates.

For more information on booking your OET exam and to view upcoming examination dates at our centre, please visit our OET webpage:

Please note: OET exam fees are not included with the fee for this preparation course.

Upcoming Course Dates

Our next 4 week course will take place between May 2 2023 and May 25 2023. The full course consists of 16 hours tuition, comprised of two 2 hour lessons per week over 4 weeks. Classes on this course will take place Tuesday and Thursday evenings from 5.30pm to 7.30pm.

Tuition Fees

The tuition fee for the course is £275 and this includes:

All tuition and materials provided as part of the course
A wide range of motivating materials, including digital resources and a coursebook
Practice tests
Access to our online learning platform and a range of self-study materials
Regular targeted support from your teacher helps you to achieve your learning goals.

The OET exam entry fee is not included as part of the course tuition fee.
How to apply
To apply for an upcoming course, please complete the application form below:
Part-time OET Preparation Course - Application Form
Applications for our May 2023 course are open now until the application deadline of Monday April 24 2023.
Information for Under 18s
Our courses are designed for adults. Applicants who are under 18 are subject to a number of restrictions and administrative procedures. 
The standard minimum age for our courses is 18 years. However, we will consider applications from applicants who are under 18 in some circumstances, and subject to satisfactory guardianship arrangements being in place. Please contact us for more information.
For further information on under 18s at the university please visit our "Students under the age of 18" webpage".
A world top-100 university
We're a world top-100 university renowned for the excellence, impact and distinctiveness of our research-led learning and teaching.