Pronunciation and Speaking Plus
Boost your speaking and pronunciation skills with this short 10 week course in just 2 hours per week.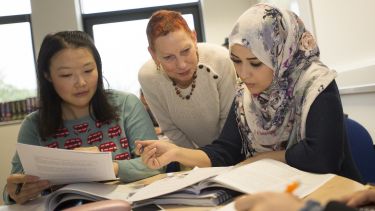 Level: CEFR B1/B2
Cost: £225
When: February to May 2021 on Wednesday evenings from 5.30pm to 7.30pm
Hours: 2 hours a week for 10 weeks (20 hours)
Apply: Apply Now Here
Covid-19 - Term 2 (February to May 2021) Course Format Update
As a result of Covid-19 and to ensure the safety of all ELTC staff and students we have made some changes to our Part-time Evening courses:
The classes will be taught face-to-face, but we will only be allowing small groups in compliance with the latest UK Government guidelines on social distancing and public health.
Students should be aware that the classes might need to be moved to online delivery if Government guidance changes.
We will keep you informed of any changes to the format of the course (if required) after you apply.
---
What is it?
Pronunciation and Speaking Plus is a short booster course that covers key pronunciation skills such as intonation, linking speech, word stress and vowel sounds. You will review and practice these in a communicative setting.
Who is it for?
This course is for you if you would like to improve your pronunciation and communicate more clearly with others. You can take Pronunciation and Speaking Plus+ together with one of our General English courses or as a short course by itself.
You can also take Pronunciation and Speaking Plus along with our other booster course, Grammar and Writing Plus.
Course outline
Pronunciation and Speaking Plus is a part-time course. You will be given self-study activities to do at home to complement the learning that takes place in class.
The course will start with an analysis of you and your fellow students' needs in terms of pronunciation and speaking skills
The teacher will develop the course to fit those needs.
A range of materials and technologies will be used during the course. Students will have the opportunity to be videoed or recorded if they agree to it. Students will also use online tools in order to practice specific pronunciation skills.
---
Course details
Dates and fees
When: February 10th to May 7th 2021, Wednesday evenings from 5:30pm - 7:30pm
Weeks: 10
Fees: £225
How to apply
To apply for Pronunciation and Speaking Plus please complete our online application form:
Application Deadline: January 24th 2021
After completing the application form we will invite you to take a placement test, just to make sure this course is the right level for you. We will send you more information about the placement test after you have applied.
A world top-100 university
We're a world top-100 university renowned for the excellence, impact and distinctiveness of our research-led learning and teaching.