Being a Teacher Trainer: A practical course for new teacher trainers
Becoming a teacher trainer is not an easy step for even experienced teachers to make. Many institutions support this transition by offering courses, mentoring or formal training. This course aims to support inexperienced teacher trainers as they continue their professional development in a new role.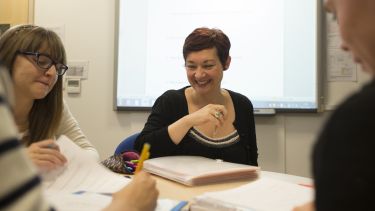 Covid-19 update
Unfortunately this course has been cancelled for the foreseeable future to the ongoing Covid-19 outbreak and the suspension of face-to-face teaching at the University.
We are very sorry for any disappointment and inconvenience caused as a result.
We will cover many common aspects of being a teacher trainer and there will be the opportunity to share ideas, resources and good practice.
This course is aimed at new teacher trainers who have little experience and who see themselves as at the From Teacher to Trainer stage on the Cambridge English Trainer Framework.
The dates for the next course are to be confirmed and it will be delivered by the authors of the new ETpedia Teacher Training. It will include a mixture of blended learning, observation, loop input, experiential learning, reflection and micro-training.
Topics covered
Roles and skills of a teacher trainer
Beginning teacher training courses
Designing and delivering training sessions
Materials and resources for training teachers
Ways of assessing teachers
Approaches to lesson observation
Managing feedback: written and spoken
Reflective practice
Supporting (trainee) teachers and dealing with difficult training situations
CPD for teacher trainers
Course outcomes
By the end of the course, participants will be better able to:
Identify the various roles and key competencies of teacher trainers working in different contexts
Develop and implement a teacher training programme
Plan and deliver a teacher training session taking different approaches, building in variety and interest
Select, adapt and design teacher training materials and activities relevant to the needs and learning context of their (trainee) teachers
Exploit ways of assessing teacher learning on training programmes in order to link theory with practice
Manage the process of classroom observation, including providing pre-lesson support with planning
Provide effective written and oral feedback on teaching and manage the post-lesson discussion sensitively
Encourage critical reflection as part of an experientially-driven teacher training model
Work supportively with their (trainee) teachers and manage difficult training situations
Reflect on their practice and continue their professional development
Timetable
| Day | Morning | Afternoon |
| --- | --- | --- |
| Monday | Induction; Intro to Course | Roles and skills of a teacher trainer; Beginning Courses |
| Tuesday | Input sessions: planning and delivery | Assessing teachers |
| Wednesday | Support with lesson planning | Optional Workshop: Materials & Resources |
| Thursday | Classroom observation | Reflection and Feedback |
| Friday | Pastoral care; CPD; Admin; Feedback | Optional Attendance: Technology in the Training Room |
Application Information
Tuition fees for the full course are £575.
Applications for this course are currently closed due to the ongoing Covid-19 outbreak
If you have any questions or would like more information about the course please get in touch: tefl@sheffield.ac.uk
A world top-100 university
We're a world top-100 university renowned for the excellence, impact and distinctiveness of our research-led learning and teaching.