Departmental Administration Manager
We have an exciting opportunity for a Departmental Administration Manager in the Department of Automatic Control &
Systems Engineering (ACSE)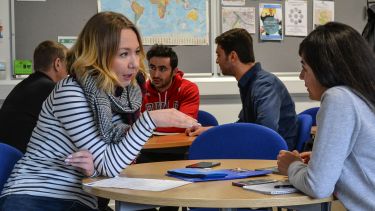 Department of Automatic Control and Systems Engineering
Grade 8
£42,149 - £50,296 per annum, with the potential to progress to £56,587 per annum
Closing date 12 May 2022
Are you a strategic problem solver with strong experience in operational delivery and building effective collaborations? Do you have the skills to lead delivery of the very best professional support to underpin activities in a high performing, ambitious department with strong aspirations for growth across its research and teaching portfolios? Are you experienced, innovative and enthusiastic to work for a world top 100 University?
If so, we have an exciting opportunity for a Departmental Administration Manager. The Department of Automatic Control & Systems Engineering (ACSE) is one of the largest departments devoted to the subject in Europe, with 36 academic staff, 56 research staff, 27 professional and support staff and nearly 400 taught and research students.
We have a vibrant culture which supports collaborative research, and a strong programme of training and development for our researchers, from postgraduate research students through to our research leaders. Our high quality physical infrastructure facilitates excellent research, spanning all aspects of Systems and Control Engineering. For further information about the department, please visit: www.sheffield.ac.uk/acse.
Our team is looking for a highly organised and methodical Departmental Administration Manager, who is also flexible, calm and resilient. The ability to think, plan and act strategically and to develop and deliver strategies and plans effectively to support strategy and objectives is also important.
This is a significant leadership role, with the opportunity to positively impact on the performance of the department to ensure that it delivers its ambitious plans. As Department Administration Manager, you will bring vision, energy and a commitment to leading excellent service delivery for staff and students. You should have a good honours degree or equivalent qualification, and demonstrable experience of leadership in higher education, the public sector or the private sector. You will work with the Head of Department on a day-to-day basis to ensure that the department remains a successful and inclusive learning and research environment in which staff and students thrive and are valued.
You will also have strong interpersonal skills as well as the ability to build effective networks and positive working relationships within the Department, the Faculty, and the University. Experienced in delivering change, you will be an outstanding communicator and leader who is confident, eloquent and able to work with staff at all levels to establish effective collaborations across the organisation and beyond.
You will possess excellent organisational and analytical skills with the ability to develop and deliver strategic plans, whilst balancing competing agendas and priorities. You will have experience of budget and/or financial management and you will also be able to undertake analysis of business intelligence and management information and act on this to reach an effective outcome.
We are committed to enabling our employees to work in a hybrid model with flexibility over when, where and how to achieve the required outputs, in discussion with your manager.